---
Hi all!
We're back with all the things you love, including: a Giveaway to win a limited-edition enamel pin (no purchase required to enter the giveaway), a free Digital Comic, a ranking of our favorite Ghostface killers from the Scream franchise, and our experience fulfilling our previous Kickstarters. 
Without further ado, let's dive into it!
---
Announcements
---
Slice of Life GIVEAWAY
It's your chance to win a FREE exclusive item! We'll be giving away one of our limited-edition enamel pins to one lucky person!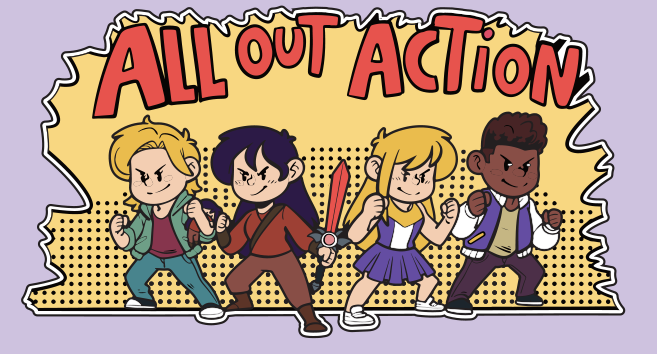 Our "All Out Action" Enamel Pin is our C2E2 2023-exclusive item. We're only producing 100 of them, and we'll be giving away one of them to a randomly-selected Subscriber of "Slice of Life" on Zestworld.
All you have to do to enter the Giveaway is Subscribe to the series (completely free) here: https://www.zestworld.com/LifelineComics/slice-of-life-gl
In addition to entering our Giveaway, subscribing on the platform will also give you access to our Zestworld-exclusive Bonus Chapter of the series. It's a hilarious and fun Chibi Adventure with tons of references to your favorite anime!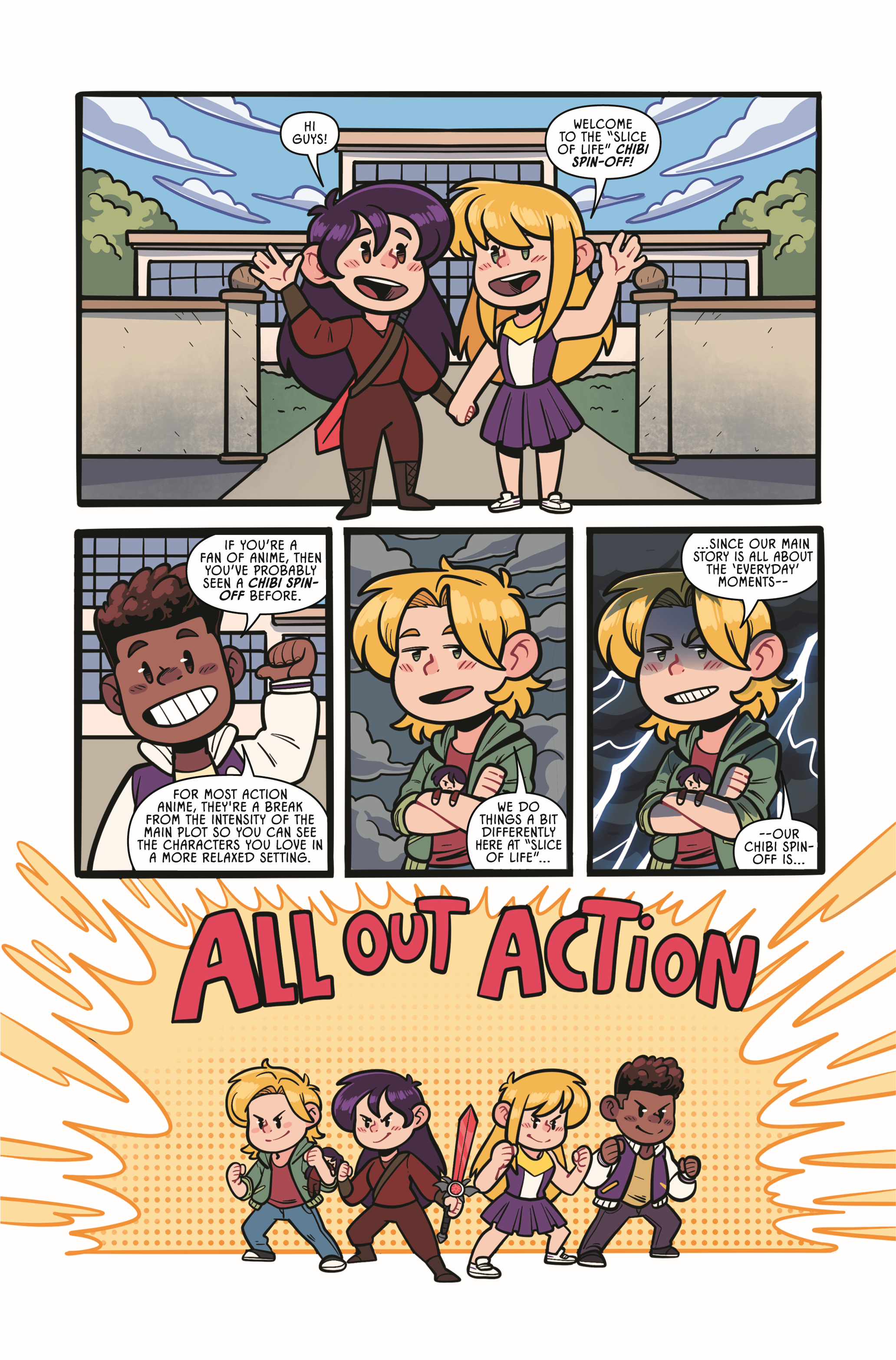 Subscribe to "Slice of Life" on Zestworld here to enter the Giveaway and read the Bonus Chapter: https://www.zestworld.com/LifelineComics/slice-of-life-gl
We'll be drawing a winner on Monday, March 6th at 11:59 PM, so be sure to Subscribe before then for your chance to win!
---
Read "I Was a Teenage Werewolf" For Free!
Readers of our mailing list are in for a treat: a FREE DIGITAL COMIC!
We're sharing one of the stories featured in our anthology, Hairology - A Celebration of Hair, with all of you! "I Was a Teenage Werewolf" is written by Rob Walker, with art by Kenan Halilovic, and lettering by Taylor Esposito.
"Life's tough when you're the only Hispanic kid in class who has to shave...as told through the comedic eyes of a werewolf!"
Read directly in this email below, or as a PDF here.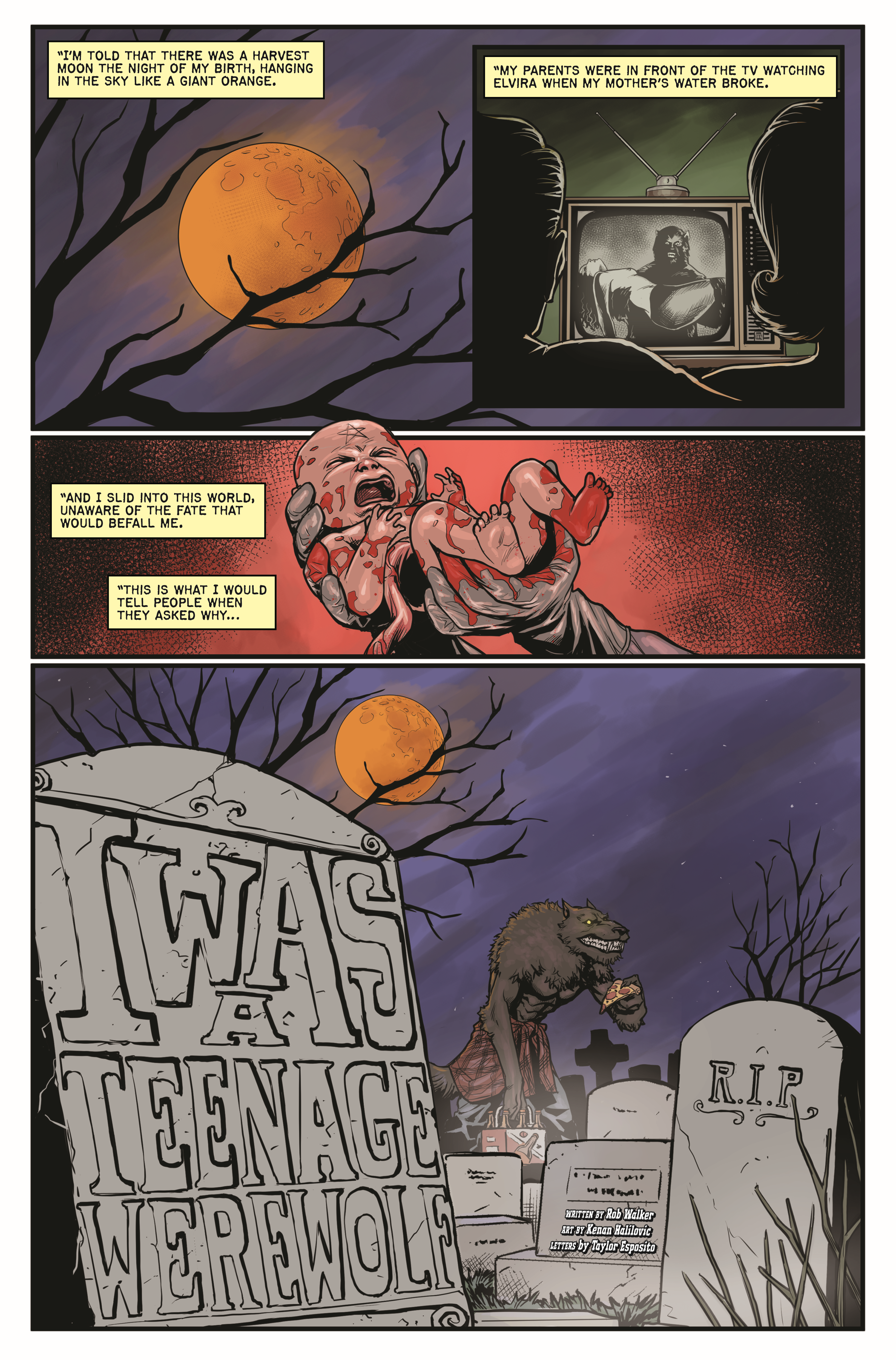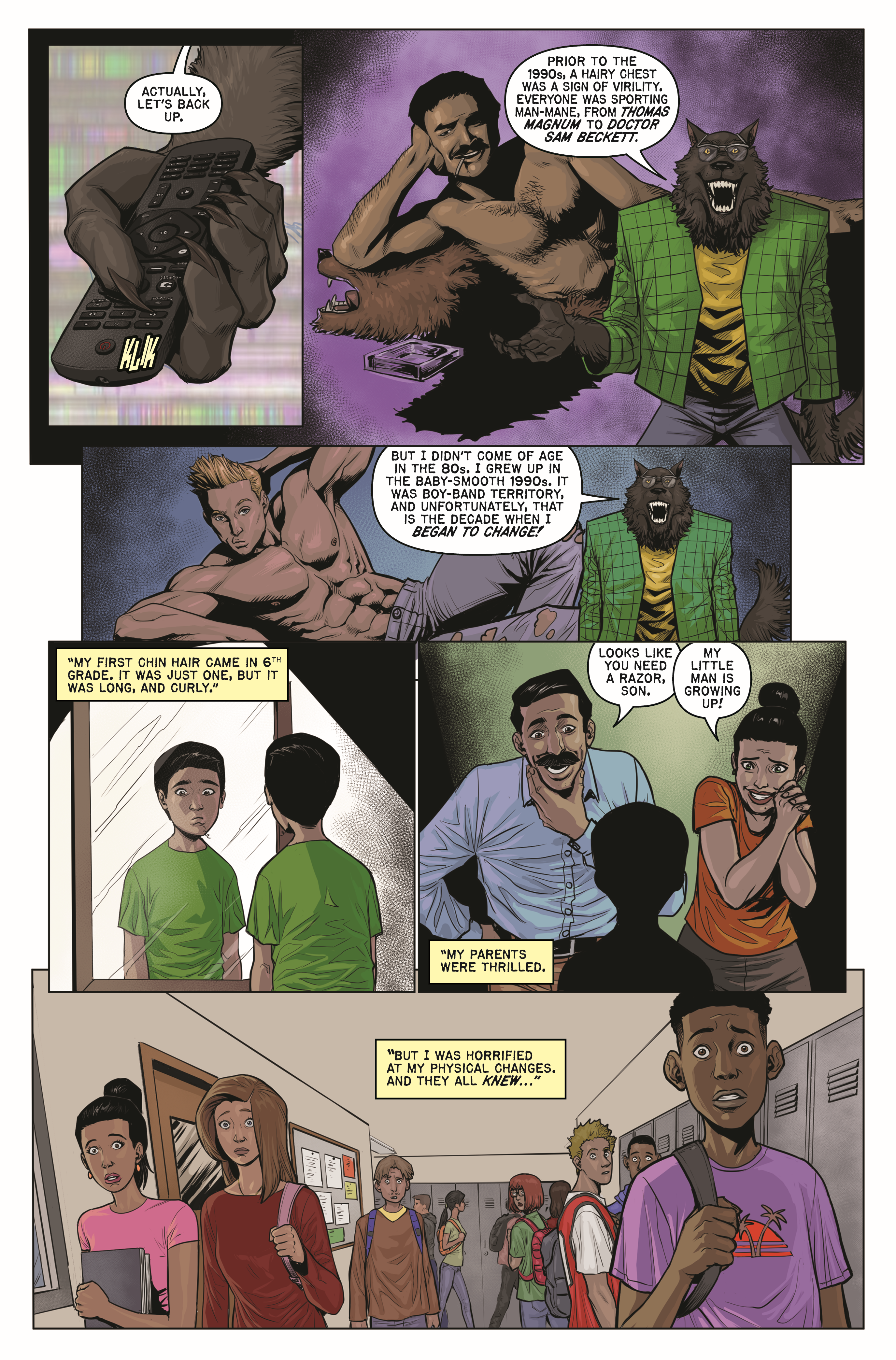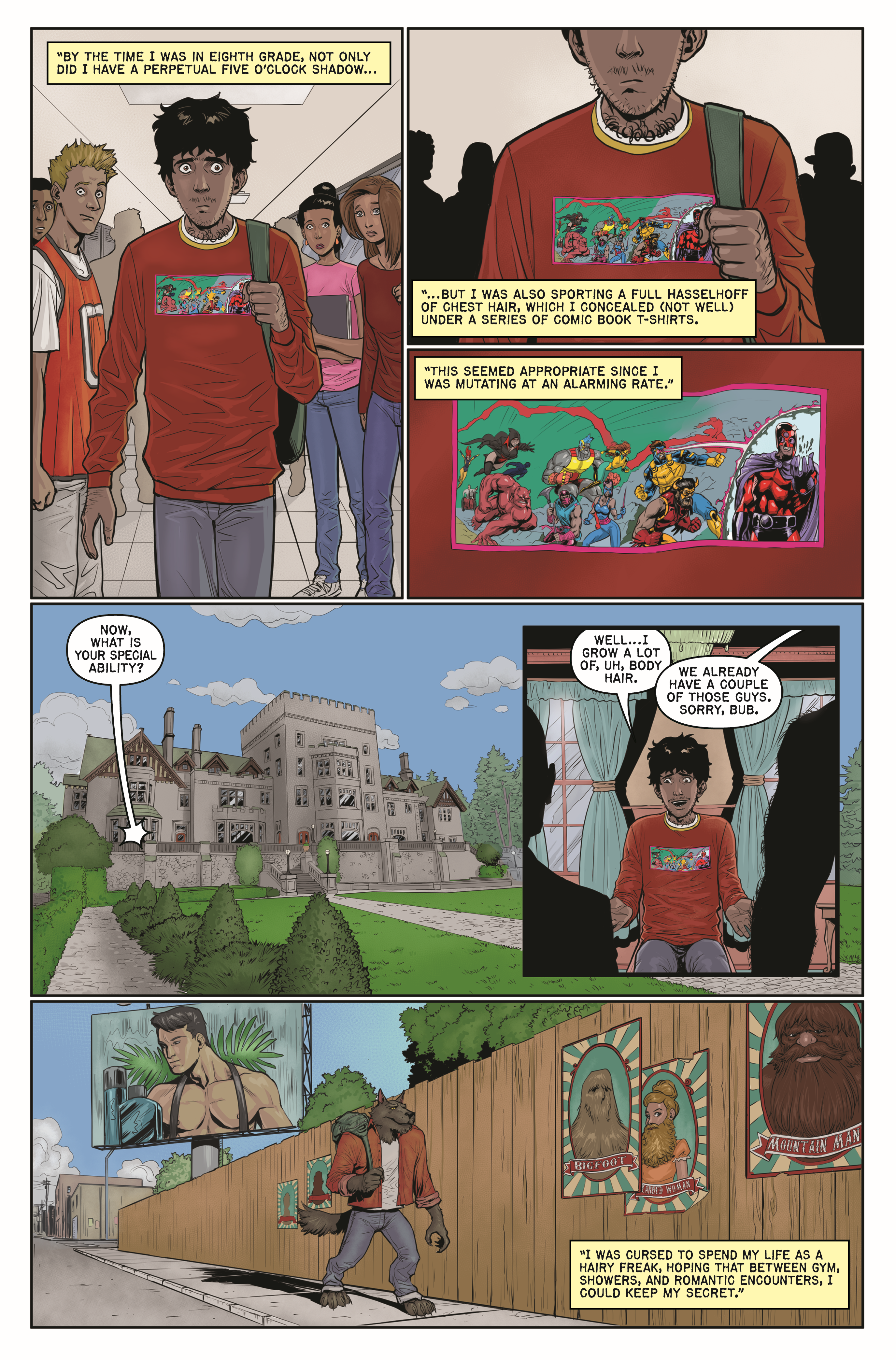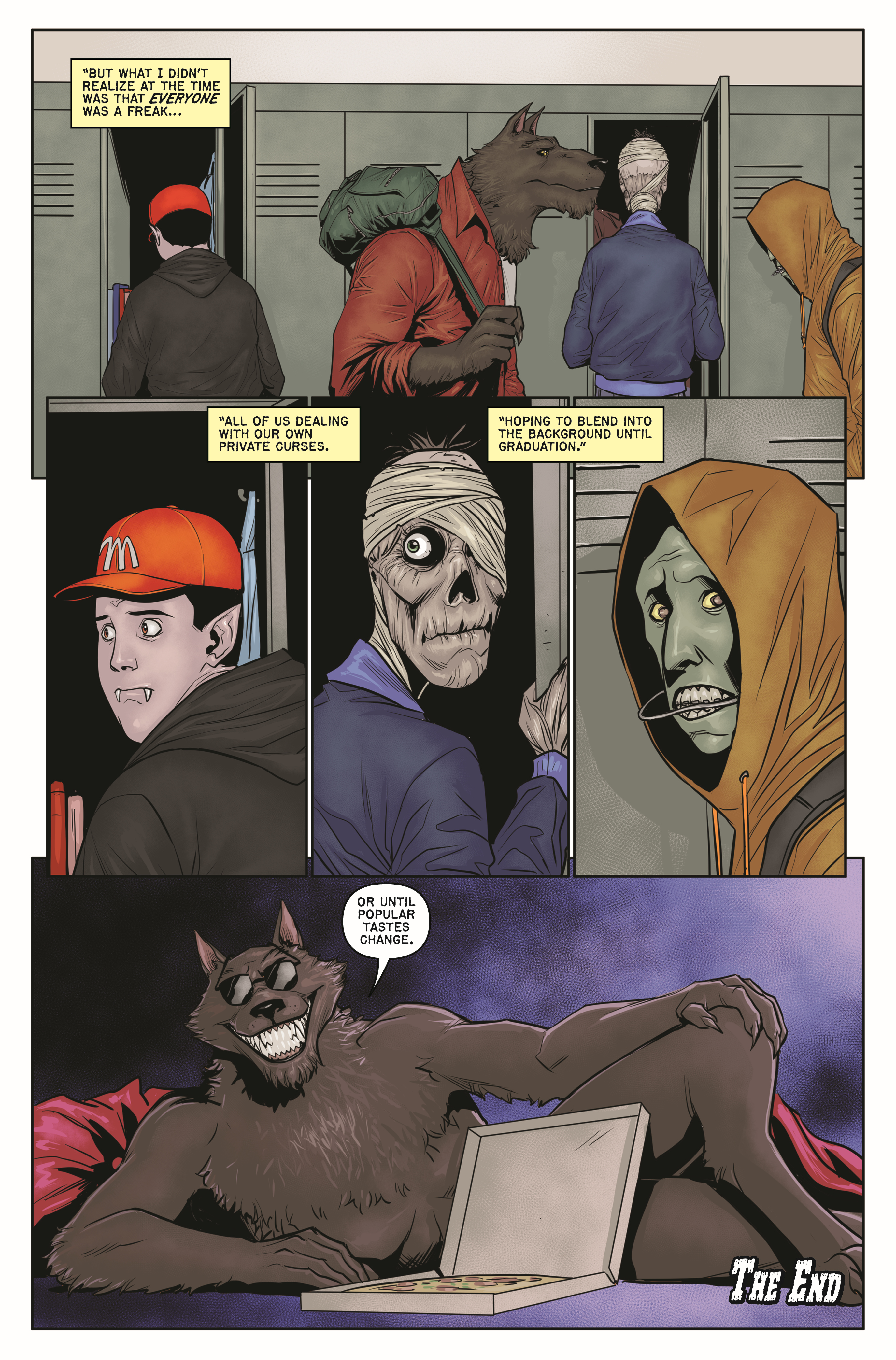 This is just one of the several amazing stories in Hairology. To see them all, head over to the Kickstarter page below. We're at 62% funding with only 10 days remaining.
Help us hit that funding goal to make the project a reality!
Back Hairology here: https://www.kickstarter.com/projects/comicuno/hairology-a-celebration-of-all-hair-types?ref=38xrk2
---
Ranking Ghostface killers from the "Scream" Franchise
As we get ready for Scream 6 next week, we thought it would be fun to rank the Ghostface killers in Screams 1-5!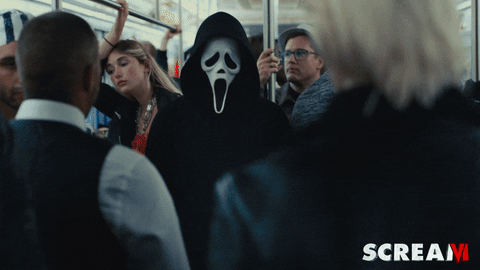 Scream is one of our favorite franchises, with the first film being in both Kat's and Phil's top 5 movies of all time. So it was so much fun revisiting all of these smooth-talking antagonists and giving them letter grades!
---
9. Roman Bridger (Scream 3)
Average Grade: D-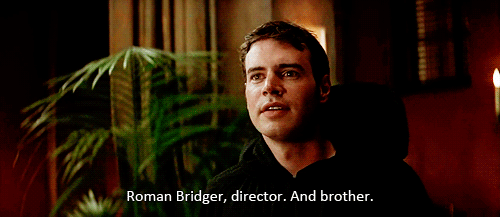 Phil: While I don't think Scream 3 is (necessarily) the worst Scream movie, Roman is definitely my least favorite Ghostface.
I could spend an entire email listing out the problems with this guy. Whether it's the fact that he's a non-entity for almost the entire movie (he doesn't even interact with Sidney prior to his unmasking!), that he comes across as a whiny man-child in his reveal monologue, that his existence retroactively tries to paint far-superior Ghostfaces, Billy and Stu, as henchman, or that he's just flat-out incompetent.
Much like the franchise itself has done, it's best that the fanbase just pretend this guy never existed.
Phil's Grade: F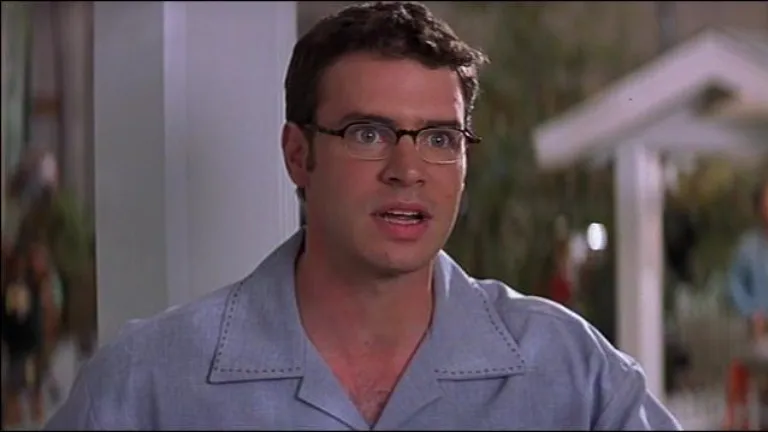 Kat: Scream 3 is the single Scream film I have only seen once. I'm pretty sure the first (and last) time I've seen this film was in high school, which was over 10 years ago. The killer reveal is honestly one of the few things I remember about it, which I give a couple of bonus points to. Roman is a memorable villain. Does that make him good? No. But at least the film was different from its predecessors. It tried something unique...it just didn't always work.  
Kat's Grade: C-
---
8. Richie Kirsch (Scream 5)
Average Grade: D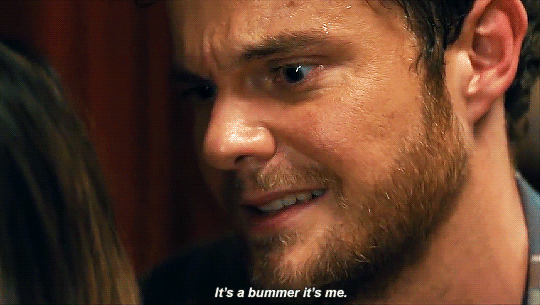 Phil: Richie is the only Scream killer who was more fun/interesting pre-Ghostface reveal.
Jack Quaid had some really fun lines and solid comedic timing throughout the Scream 5 (this joke gets me every time). But after he is revealed to be the killer, the audience quickly turns from laughing with him to laughing (and groaning) at him. His motivation is really, really bad (in a cringey way, not in a fun one). And some of his lines literally make me wince in pain ("Because nobody takes the true fans seriously, not really.")
Sidenote: I think that it was a massive mistake for the movie to imply that Richie and Amber were a romantic couple (calling each other "babe"). I think it would've been far more interesting/funny/unique if we were left with the implication that these two platonic besties just really love "Stab" and want to team up to make their own.
Phil's Grade: C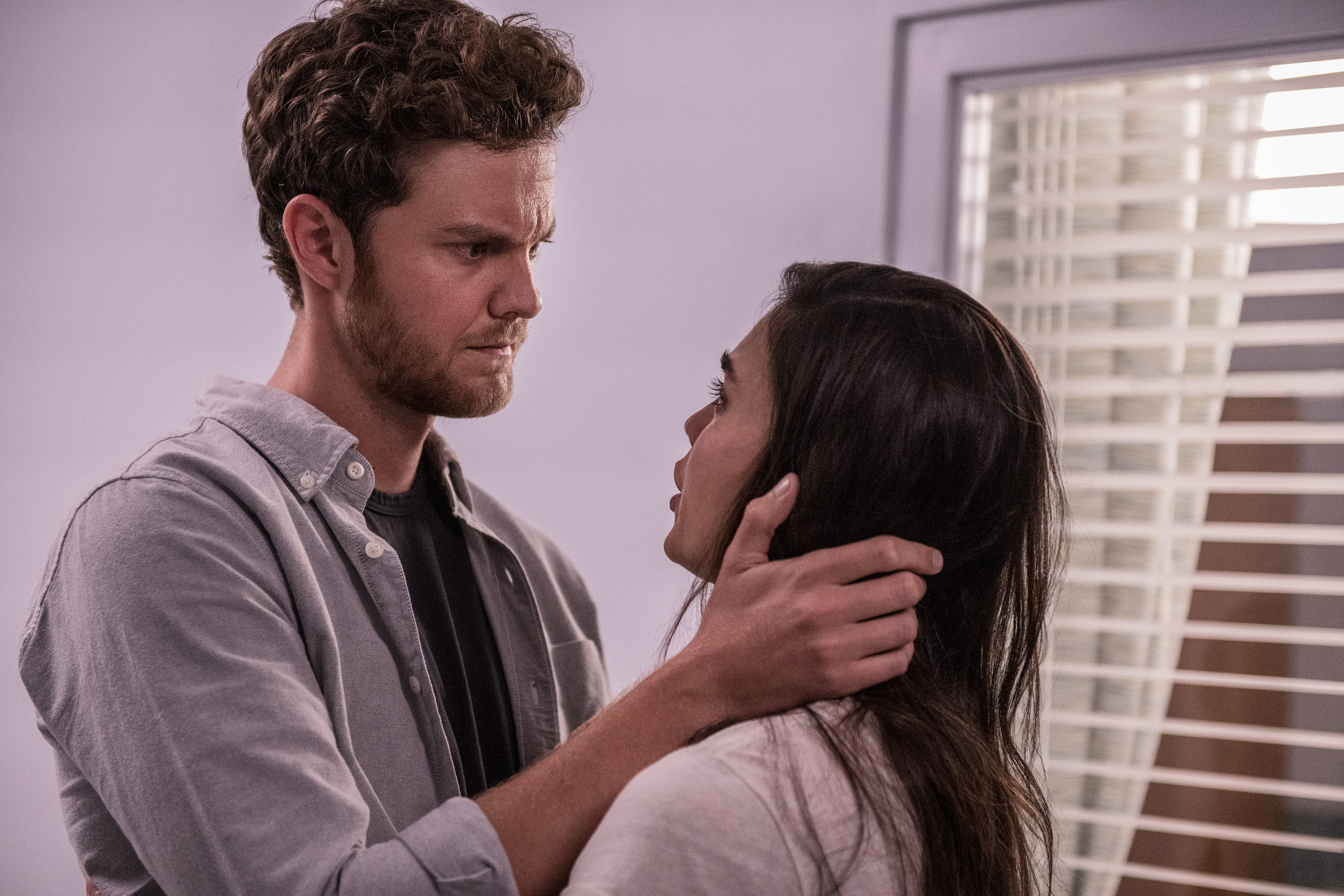 Kat: I hate Richie as much as Phil hates Roman...maybe even more. I truly believe he's one of the worst killers in recent slasher film history (I mean, at least Corey from Halloween Ends was funny bad). Scream 5 was a FINE sequel up until the killer reveal. Richie being Ghostface was predictable and telegraphed, and his "know it all" personality just sucked the fun out of EVERYTHING. The more and more I sit with this movie the stronger my hatred grows for it....Poor Dewey...you deserved to die in a better film. 
Kat's Grade: F
---
7. Mickey Altieri (Scream 2)
Average Grade: C-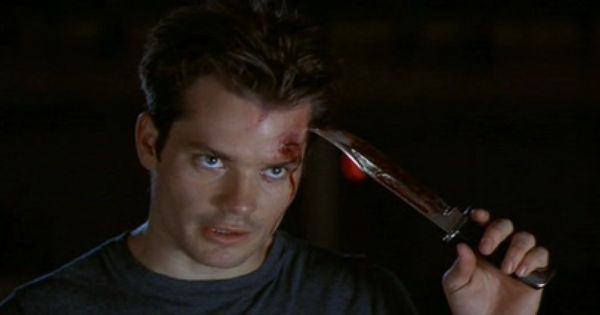 Phil: I have the same complaints about Mickey as every Scream 2 fan: he's literally absent from the movie for the 40 minutes before his reveal. Instead of being surprised when he unmasks himself, you're left thinking: "Oh yeah, he's in this movie."
Timothy Olyphant does the best job he can with his role, but he just isn't given much to work with. He just barely manages to not be a complete Stu rip-off, but I'll grant that he gives one of the better "I have no real motivation, I'm just crazy/want fame" deliveries amongst his peers. And his gaslighting of Sidney into believing Derek is one of the killers only to shoot Derek in the chest is a stand-out moment from Mickey. But otherwise, he's pretty easy to forget because he's just never given the chance to be an actual character. I do think he's much better than our next pick.
Also, minus half a letter grade for his clapping along to the worst scene in Scream history.
Phil's Grade: C+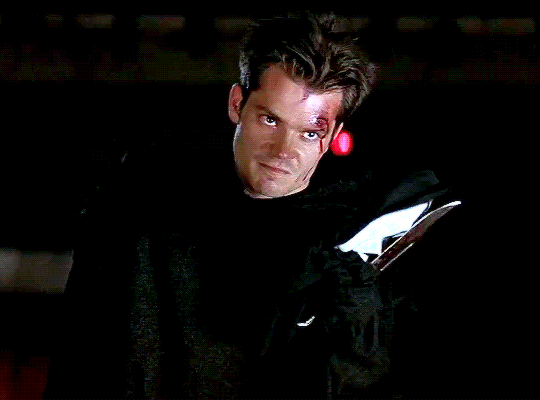 Kat: It's been a while since I've seen Scream 2, and damn I forgot this guy existed, which is why he ranks lower than Roman for me. I agree with Phil, I like the twist that Derek is not actually the killer, but that doesn't make Mickey a great one. It doesn't help that he has to compete for the spotlight with Billy's mom (who has a superior reveal).  
Kat's Grade: D
---
6. Charlie Walker (Scream 4)
Average Grade: C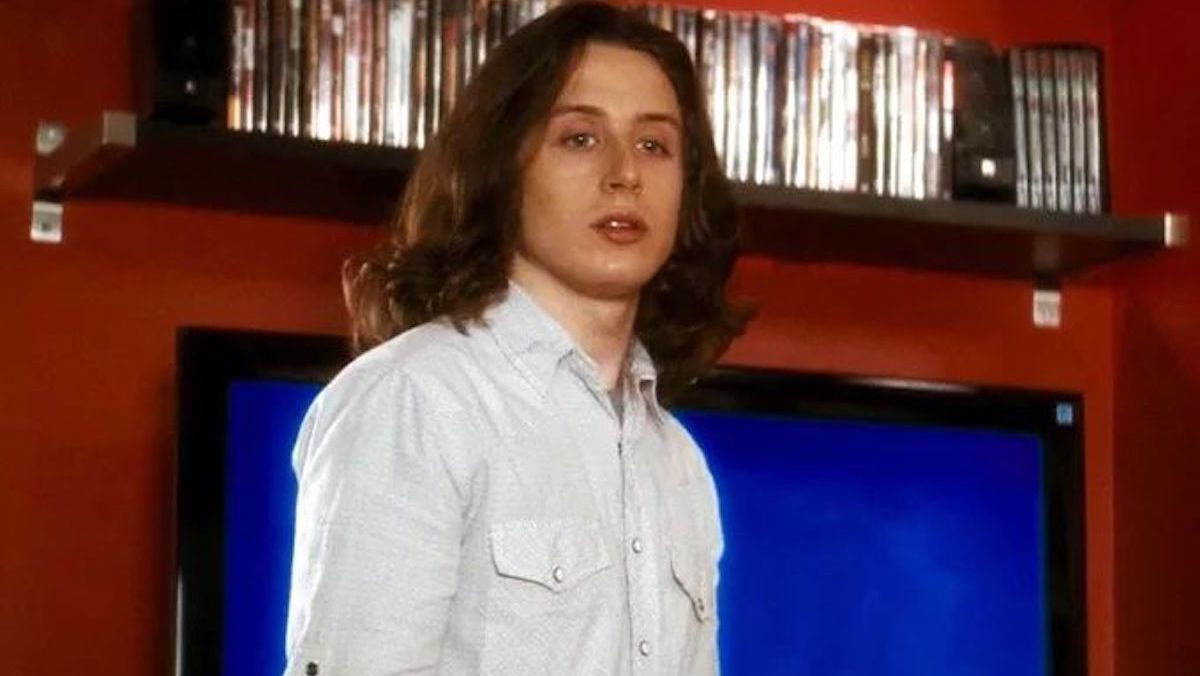 Phil: Charlie spends one-third of the movie as a less-interesting sidekick to Robbie, one-third as a less-interesting love interest for Kirby, and the final third of the movie as a less-interesting henchman for Jill. No matter which part of the movie you're watching, Charlie is playing second-fiddle - and not in a fun way.
His Ghostface reveal gets some props for being a gut-punch (stab?) after Kirby's impassioned listing of horror movies (best scene in any Scream sequel; don't @ me). But that's literally the only positive I have about this guy. He does a piss-poor Stu impersonation and has some of the weakest motivation of any killer in a franchise where motive already tends to be pretty thin. I definitely think Mickey should be above this guy, but I lost the war of averages here.
Phil's Grade: C-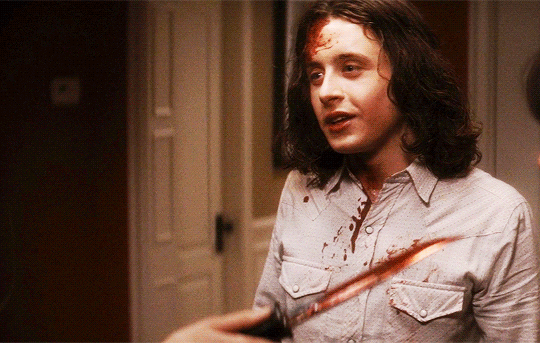 Kat: Phil and I have had many conversations about Charlie. Scream 4 is my favorite sequel from the franchise. (Honestly, it's one of my favorite movies. Period.) It's up there for me with the original. Granted, Jill and Kirby are the two characters that make this movie SO. DAMN. GOOD, but I don't think Charlie is that bad of a character. I was on the edge of my seat during his fake-out death! I didn't see the reveal of him being the "Stu" of the movie coming, and he had a fun enough dynamic with Jill. 
Kat's Grade: B-
---
5. Amber Freeman (Scream 5)
Average Grade: C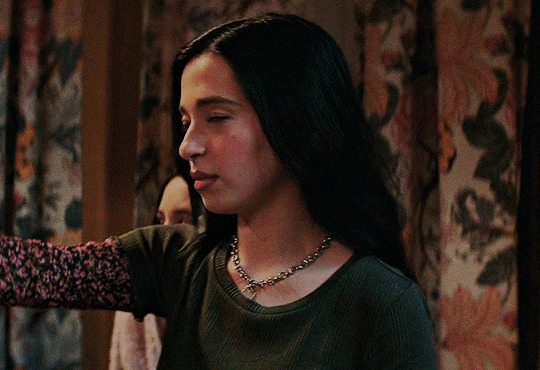 Phil: Amber gets some props because I actually found her to be pretty fun. Like Stu, Mickey, and Charlie before her, Amber comes across more as a "brawn" than the "brains" of the operation. But thankfully, she relishes the role (unlike Charlie).
Her "Ghostface reveal" killing of Olivia was shocking and brutal. I love the hilarious tendency she has to just give up on her performances - both when Sidney and Gale first arrive at the house to a crying Amber only for her to immediately pull a gun the second they express skepticism, and at the end of their fight when she cries that she was radicalized by Reddit. And both of her death scenes were fantastic.
At the end of the day though, Amber was only really interesting post-Ghostface reveal and hardly did anything of note beforehand. And neither she nor Richie was really able to make a strong impression, which I think makes them the weakest Ghostface duo. Every film before Scream 5 (with the except of Scream 3) had at least one great and memorable Ghostface. Scream 5 just had a bad one and a middling one.
Phil's Grade: B-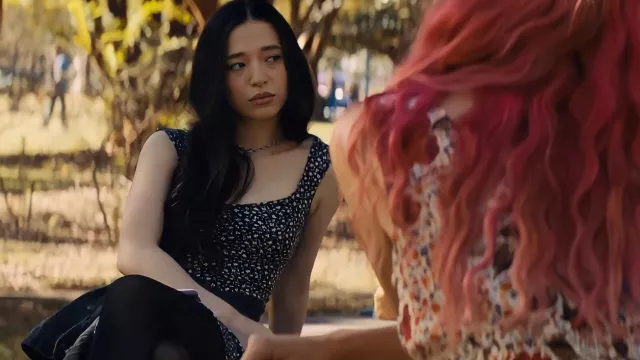 Kat: I'll say it again...I 👏 hate 👏 this 👏 movie. Amber delivers the "crazy girl" killer just fine, but like most of the film is treads old water without any real twist. Jill WAS this character, and she did it 10x better with a stronger motive. 
Kat's Grade: C-
---
4. Mrs. Loomis (Scream 2)
Average Grade: B+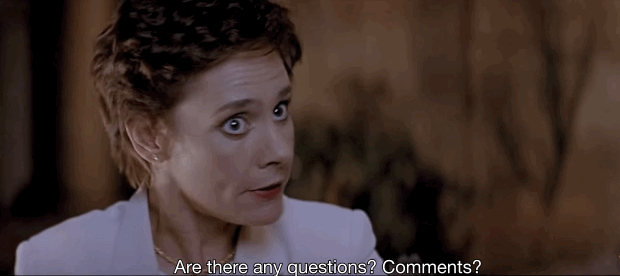 Kat: I love me a good female slasher! Scream built its foundation on creating modern twists on the great slashers that have come before, and DAMN this is a wonderful homage to Friday the 13th. Mrs. Loomis has it all! The crazy look in her eyes, the big reveal, THE MOTIVE! Scream is one of the few slashers that has a good sequel because Scream 2 builds on its lore without feeling like they're just copying the beats of the first. 
Kat's Grade: B+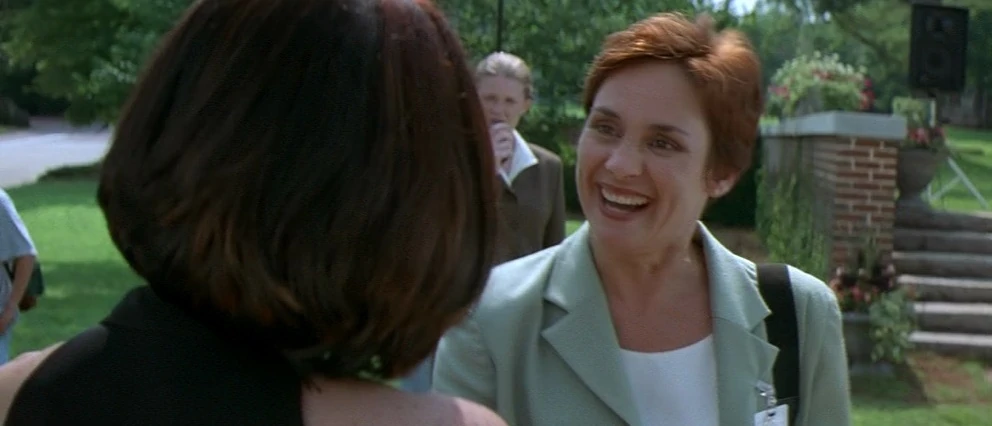 Phil: The Scream franchise was my introduction to Slashers. So naturally, the first time I saw Scream 2 was before I'd seen any Friday the 13th movies. And I remember how dumb I thought that Billy's unseen and largely unmentioned mother ended up being the killer of the second movie. But now that I'm older, wiser, and much better versed in Slashers, I think Mrs. Loomis is a blast.
Laurie Metcalf plays the erratic killer very well. You feel the weight of some history between Sidney and Mrs. Loomis thanks to fantastic performances by both actors. Her Debbie Salt persona may not have been very exciting, but it made for a surprising reveal. And everything after her unmasking is electric (killing Mickey, her monologue to Sidney, the ensuing fight, and her final confrontation with Cotton).
Plus she has one of my favorite line deliveries in the series: "My motive isn't as '90s as Mickey's. Mine is just good old-fashioned revenge. You killed my son! And, now, I kill you and I can't think of anything more rational."
Phil's Grade: B+
---
3. Stu Macher (Scream)
Average Grade: A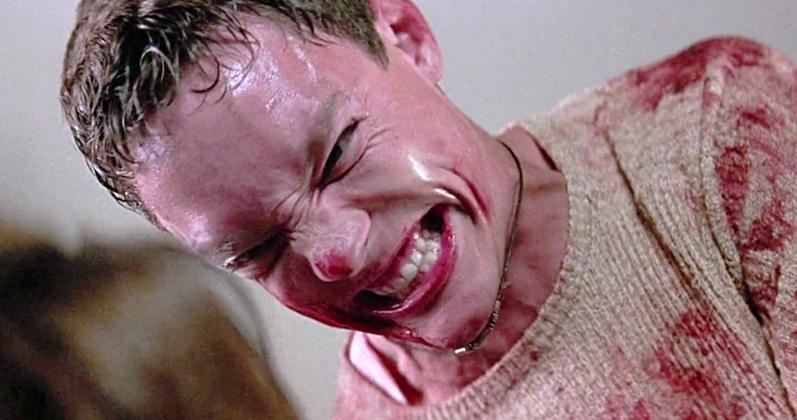 Kat: There are many reasons why Stu works as a killer, but it's mostly Shaggy's....I mean...Matthew Lillard's performance that really sells it. The reveal of their being TWO Ghostfaces was shockingly monumental! Nothing that came before was like Billy and Stu, and there may never be anything like it again. 
I mean Lillard didn't have to GO THAT FAR with his performance, but he did and he did it for US. He was pretty chaotic even before the reveal (especially his weird smiles). There's nothing more chaotic than the stabbing scene between him and Billy. Stu I have three words for you... you're brilliantly stupid. 
Kat's Grade: A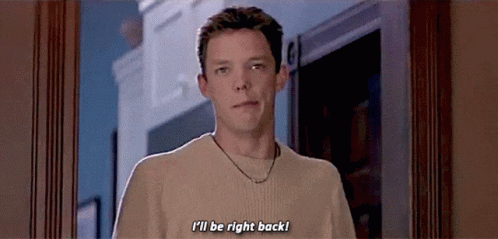 Phil: Possibly the most obviously-guilty Ghostface in the franchise, but Matthew Lillard plays it so well that it doesn't even matter.
While I've heard arguments that Stu's "too much" from his detractors over the years, I think the overwhelming majority of Scream fans can agree that Stu is just a blast. Possibly the most quotable character in the series ("Surprise, Sidney!", "It's a SCREAM, baby!", "I'm feelin' a little woozy here!", "You hit me with the phone, DICK!", "My mom and dad are going to be so mad at me..."). Fun both pre- and post-Ghostface reveal. And a fantastic death. Bravo, Mr. Macher.
Sidenote: Stu and Billy were definitely boyfriends. Nobody can convince me otherwise.
Phil's Grade: A
---
2. Billy Loomis (Scream)
Average Grade: A+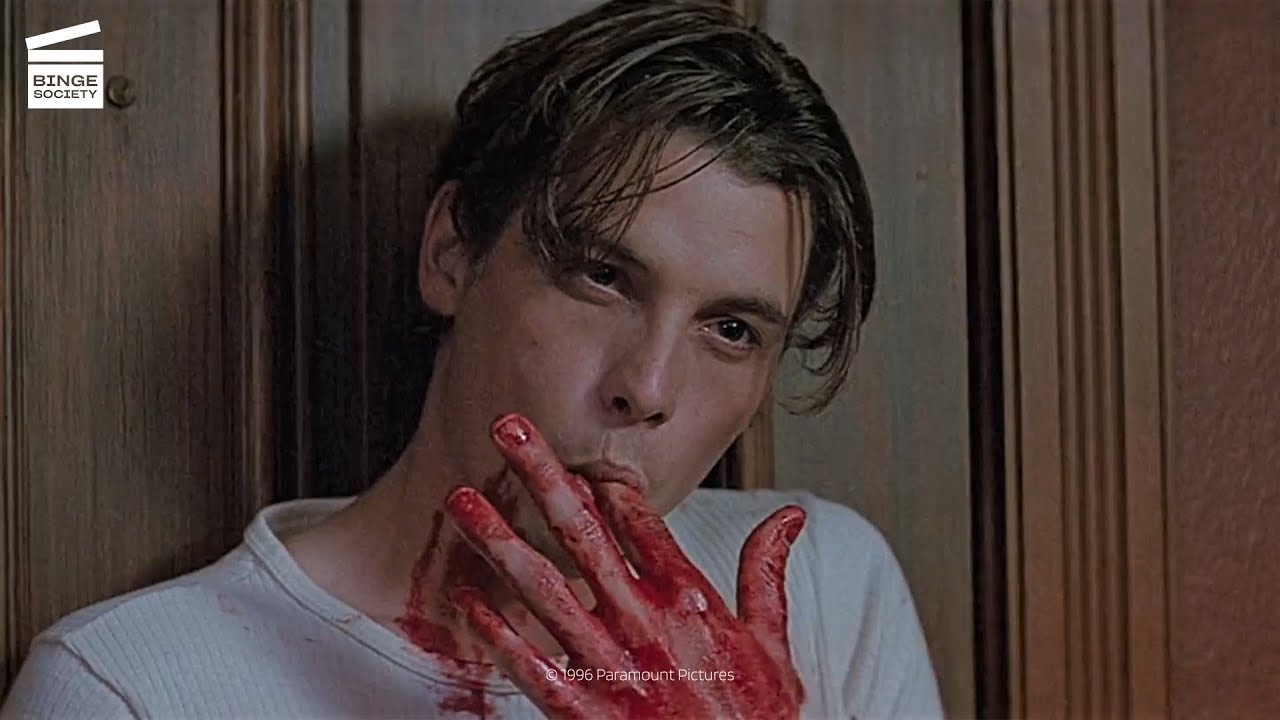 Kat: Before creating this list, I thought Billy was the clear winner as the best killer in the original Scream. He obviously has better motives than Stu, but there's something about Stu's chaotic energy that sells me on their reveal scene. This is just a testament to how great they are as a duo! And it's also probably why the next pick is my favorite killer (they sells their reveal on their own), where Billy and Stu are more of a packaged deal. 
But onto Billy, the boyfriend reveal may feel tired now, but Scream created the trope. Skeet Ulrich does a beautiful job at creating the perfect boyfriend. Of course, it can't be Billy, he's a good guy who wants to protect Sidney from the villain. Scream gives you every reason to believe Billy isn't the killer to just rip the rug under you.
Kat's Grade: A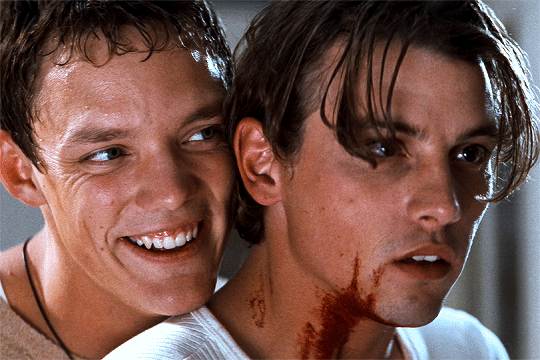 Phil: It's hard to beat the original. Thanks to a masterful performance by Skeet Ulrich, Billy has always felt like the most well-rounded. All of the other Ghostfaces feel a lot like caricatures (and I mean that as a compliment for some of them). But Billy feels like the only killer who we see multiple layers too (outside of just their performances pre-killer reveal).
I love the different shades of the character we get to see, how capable he is, the way he plays off of both Stu and Sidney. There's never a dull moment with Billy. He's my #1 pick, but he didn't average out as #1 for this list.
Sidenote: Much as I love Billy, his role in Sam's hallucinations Scream 5 is just dumb. Hope we don't see more of that nonsense in Scream 6.
Phil's Grade: A+
---
1. Jill Roberts (Scream 4)
Average Grade: A+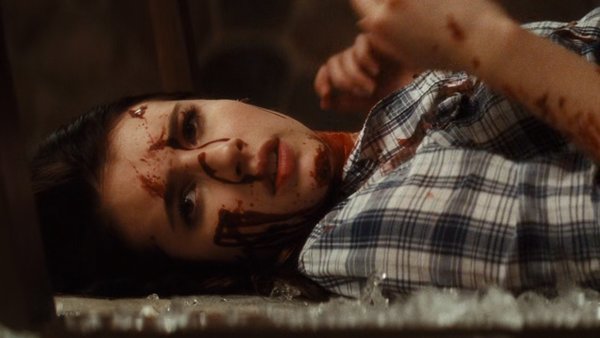 Kat: Kirby and her iconic hair-doo seems to get all the love from this film (and she deserves it), but Jill also deserves ALL THE LOVE. Billy might have started it all, but I dare say I like Jill more as a villain (I know, blasphemy). Once revealed as the killer, Emma Roberts keeps you on the edge of your seat for her prolonged Final Girl match with Sidney.
The idea that she wanted to be seen as the final girl, to be famous just like her cousin, was so psychotically BRILLIANT. Her jealously radiates as one of the strongest and twisted motives in slasher history.
Kat's Grade: A+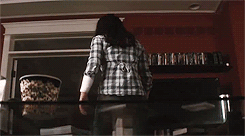 Phil: Jill is so much g*d damn fun.
I remember seeing Scream 4 when it came out in my Junior year of high school and being absolutely mesmerized by Emma Robert's performance. The entire theater was wincing in their seats during the magnificent scene where she beats the sh*t out of herself. She sells the hell out of her reveal monologue. And it was really cool to see the action extend to the hospital once we left Jill's house – all the other Ghostface reveals and final fights are isolated to one location.
Scream 4 is my favorite Scream sequel, and that is in enormously large part due to Emma Roberts' and Hayden Panettiere's respective performances.
"Clear."
Phil's Grade: A
---
What Have We Been Up To?
Phil and I have been having a busy two months catching up on Kickstarter fulfillment.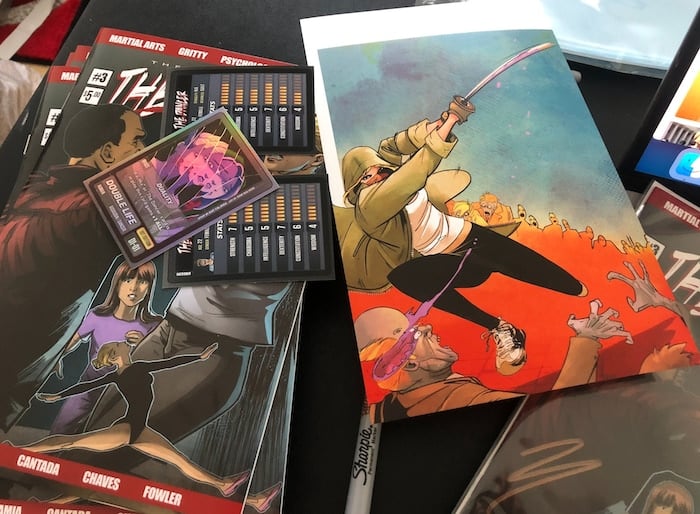 The Dancer #3, the Haunting Trade, Bi Visibility: Still Bi, and the Bi Visibility pins all came in around the same time, which meant we were fulfilling 1500+ packages every spare moment that we could find. All while traveling to Fort Lauderdale, writing our next projects, and running one of our biggest campaigns of the year, Hairology. 
It's funny because going into December/January, we kept mentioning to each other that this period would be "our slow month" because we didn't have a Kickstarter in December. But we took that time to plan even more exciting comic books and fulfill our backlog. 
Ask any Kickstarter creator, fulfillment can be grueling. But it's a bit more fun when you're doing it with your best friend. We come up with fun debates (which we then take to Twitter) like "Is Joel Schumacher's Batman & Robin actually a classic?", "How old is Dick Grayson?" or "Is Chicken Little the worst Disney film ever made?" I play my music, and Phil gets tired of me mentioning why I think Foo Fighters is one of the best bands to ever rock n' roll.
And the amount of inside jokes we come up with is immeasurable!! Thank you to our friends and family for being so patient as we lock ourselves in the office and send out our passion projects to the best readers around!
---
Media Consumed
Let's talk about some of the movies and TV shows we've enjoyed over the last two weeks!
---
Cocaine Bear
(No spoilers)
Phil: The best thing about Cocaine Bear is without-a-doubt Elizabeth Bank's direction. In fact, pretty much every visual aspect of this film is a success - from the cinematography, to the costuming, to the surprisingly-great CGI bear, to THE AMAZING KILLS (seriously, the best thing about this movie is the kills).
I think enjoying this movie is all about having the right expectations going in. This isn't as outright ridiculous as, say, Sharknado. It's definitely goofy and funny, but Cocaine Bear takes itself more seriously than that. Not as seriously as, say, Crawl. The film exists in a sort of weird in-between space of absurd and genuine. I, personally, wish it had maybe leaned a little more heavily into the absurd. But I definitely got enough of it to leave the theater happy.
The cast is made up almost exclusively of character actors who lean as heavily into their bizarre caricatures as possible. Sometimes, it works (particularly with Margo Martindale's Ranger Liz and Christian Convery's Henry). Sometimes it doesn't.
All-in-all, I think Cocaine Bear is a great "party" movie. Something to have on in the background and pay middling attention to (until an amazing kill scene commands the attention of the room). But probably not essential theater viewing.
---
Hell's Kitchen Season 21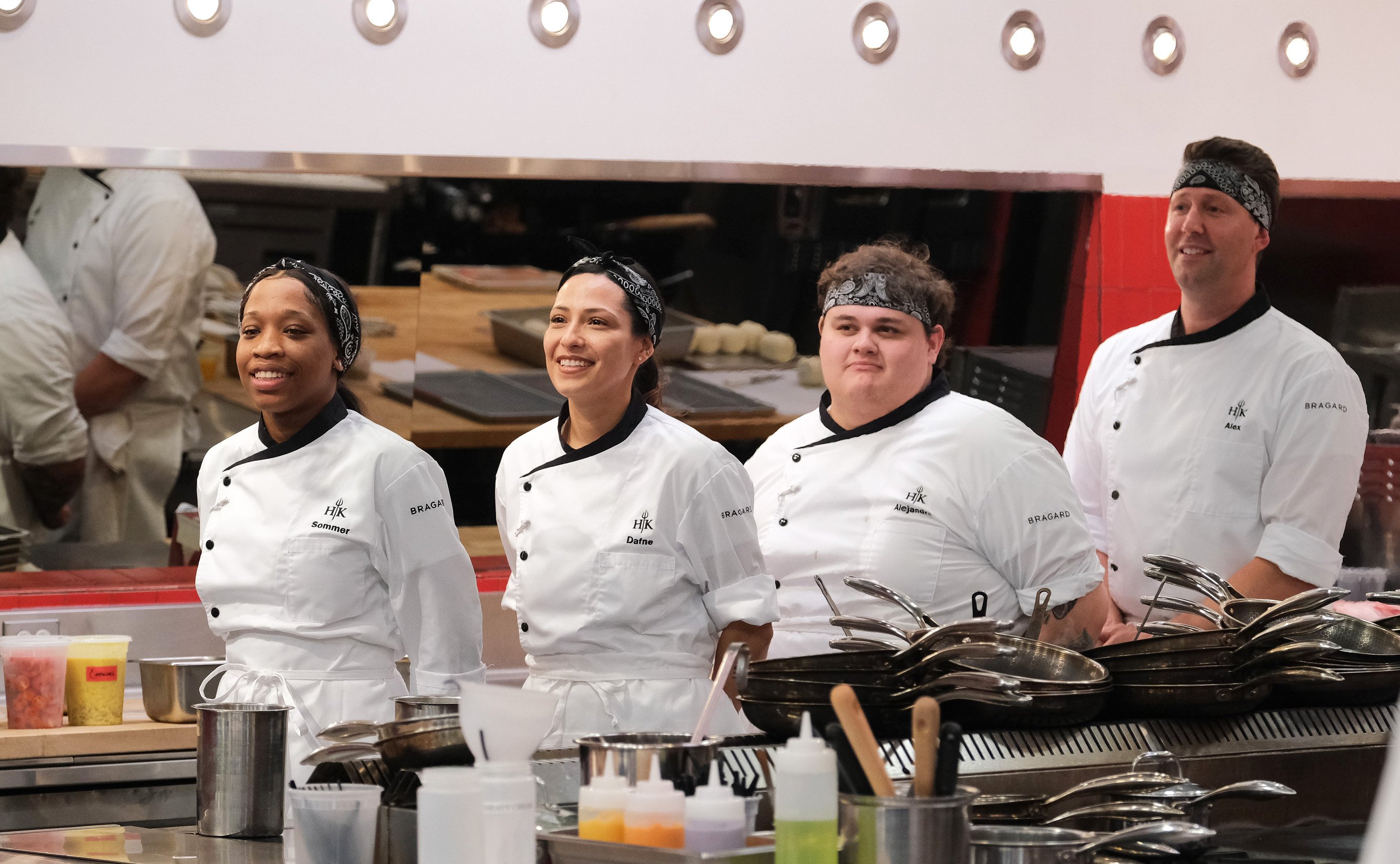 (No Spoilers)
Kat: Hell's Kitchen is my comfort show! The formula makes it easy to settle into each episode like you're catching up with an old friend. I love any content that has to do with food, and Hell's Kitchen fills that void for me. It has just the right amount of reality show drama without it overshadowing the show's talented chefs.
Season 21 was no exception of this! Without spoiling the final 2, Gordon Ramsey couldn't have chosen a nicer pair of chefs. Instead of bickering, any moment they get, these two literally talk about being proud of each other for getting this far. The winner was the clear standout from their first appearance on the show, but damn was it satisfying to see them open that door. Can't wait for Season 22 to do it all over again! 
---
Harley Quinn: Valentine's Day Special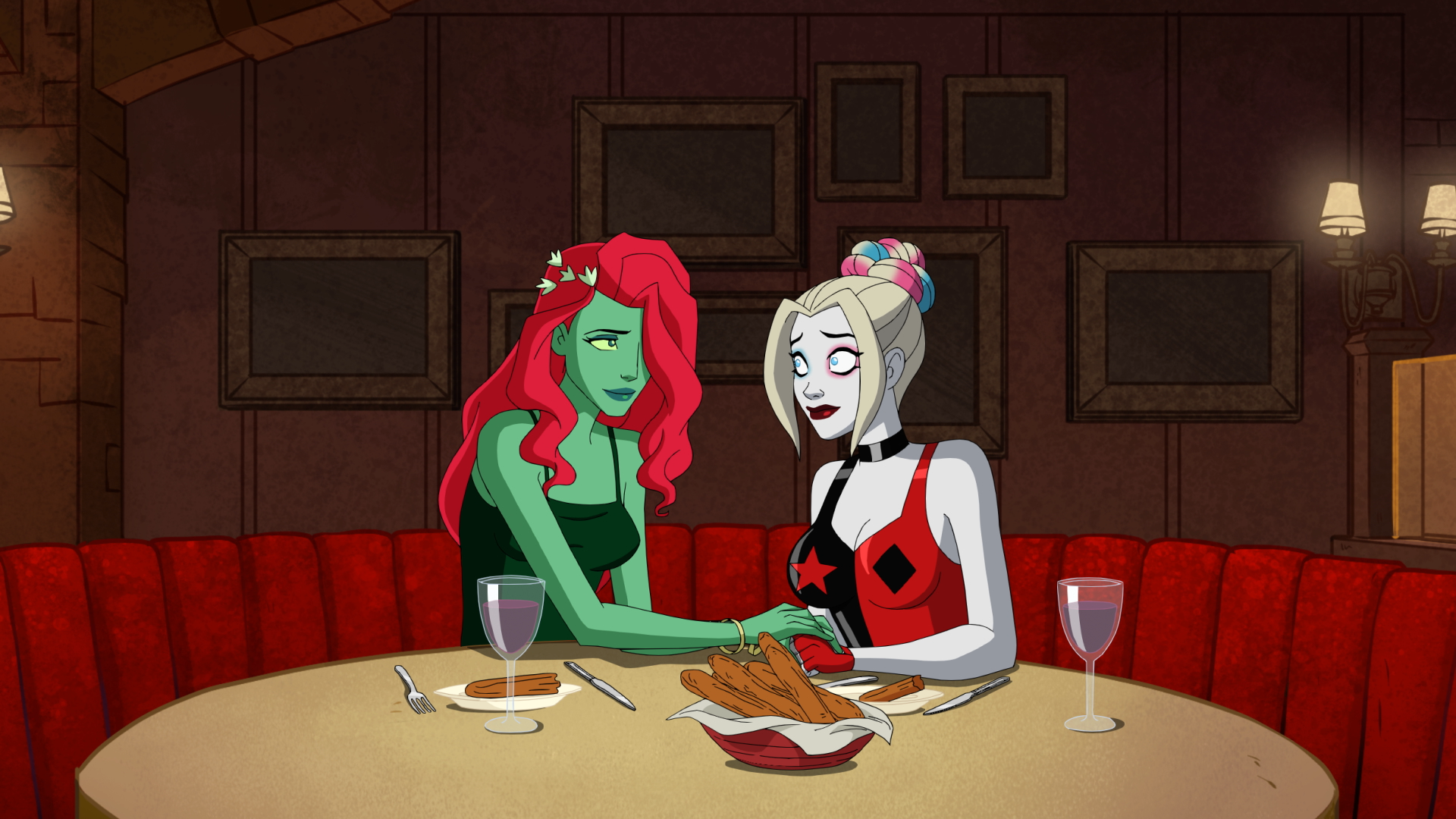 (No Spoilers)
Kat: Every new episode of Harley I get to consume just reminds me why Harley Quinn is the best superhero show we've gotten since Batman: The Animated Series. (James Gunn please don't cancel it) Harley and Poison Ivy don't have a perfect relationship, but that's what makes their romance one of the best. They have true hurdles that they have to face, and through communication (what a crazy concept) actually jump over those hurdles TOGETHER. The show is HYSTERICAL with so many small and precise jokes that you'll miss if you blink. This is a show that LOVES the source material, but isn't afraid to have a sense of humor. Harley makes fun of Batman by having him laugh right along with her.  
---
Comic Recommendations 
Specs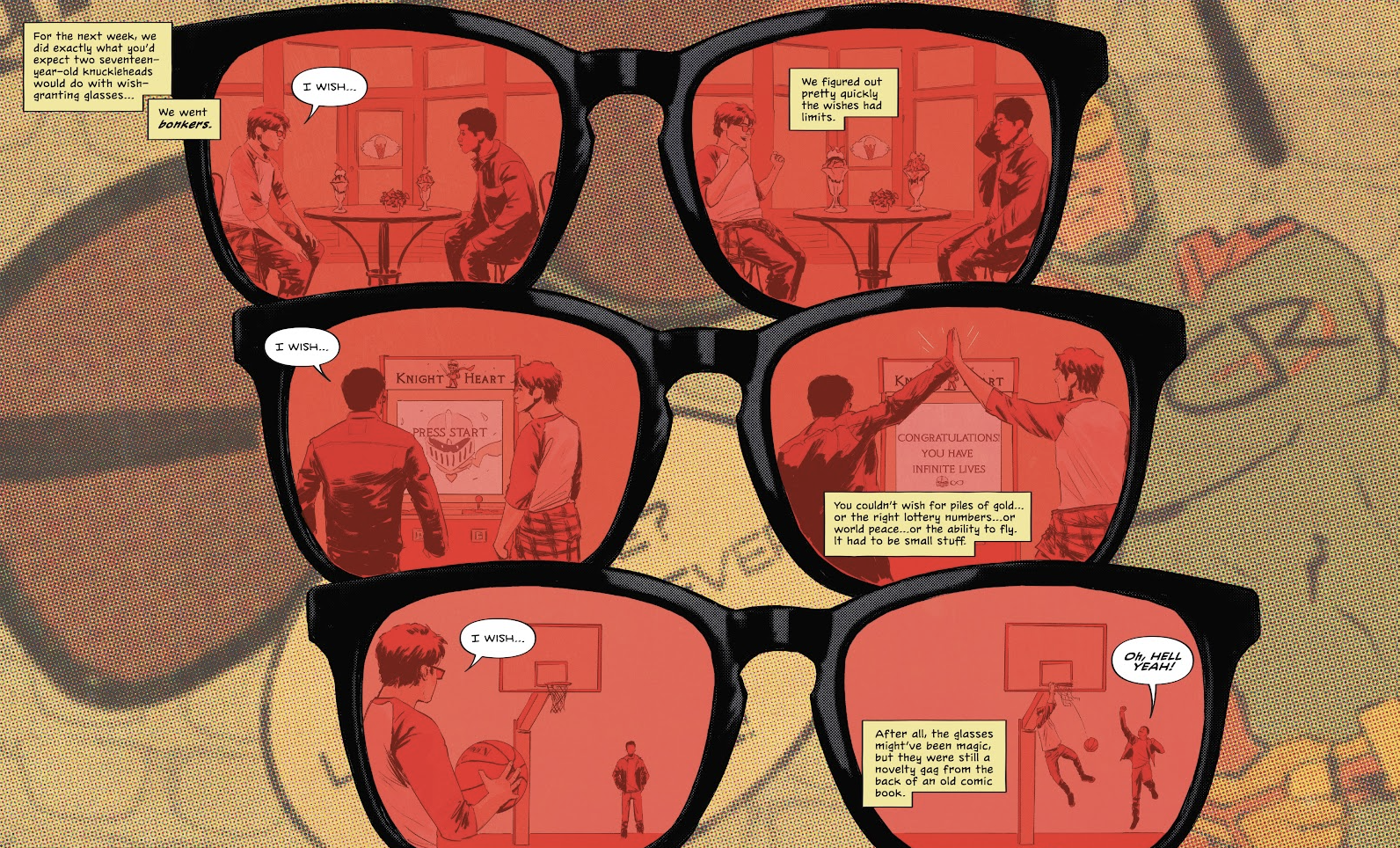 Phil: This is my favorite kind of miniseries. Right from the first issue, David M. Booher and Chris Shehan are masterful in their approach to making Specs an earnest and completely character-driven story. Introspective, well-paced, and with an ending that manages to be both heartwarming and bittersweet at the same time. My only (loving) complaint is that I would've loved to see even more of Kenny and Ted's time with the specs before the inciting incident of the series.
Kat: Have you ever read an old comic book and seen that ad where you can get crazy gadgets like x-ray glasses, but your reading the comic like 40+ years later so you missed the boat to actually take part in the fun. You're reading the rest of your comic, but at the back of your brain you think to yourself, "I wonder if those glasses work". This title tackles that and a WHOLE LOT MORE.
Coming from the minds of David M. Booher and Chris Shehan (Fun Fact: Shehan also contributed a story in Bi Visibility: Still Bi!), comes a tight four issue BOOM! Studios mini-series that tackles heavy topics like race and queerness through the "lens" of magic glasses that grant your every wish. It's an ethical tale about getting everything you ever wished for, and how wrong that road could take you (even the wishes you never take) It's a story that's truly about coming into your queerness, and one of the best LGBTQ+ stories I've read in the direct market in a while. 
---
Batman/Superman World's Finest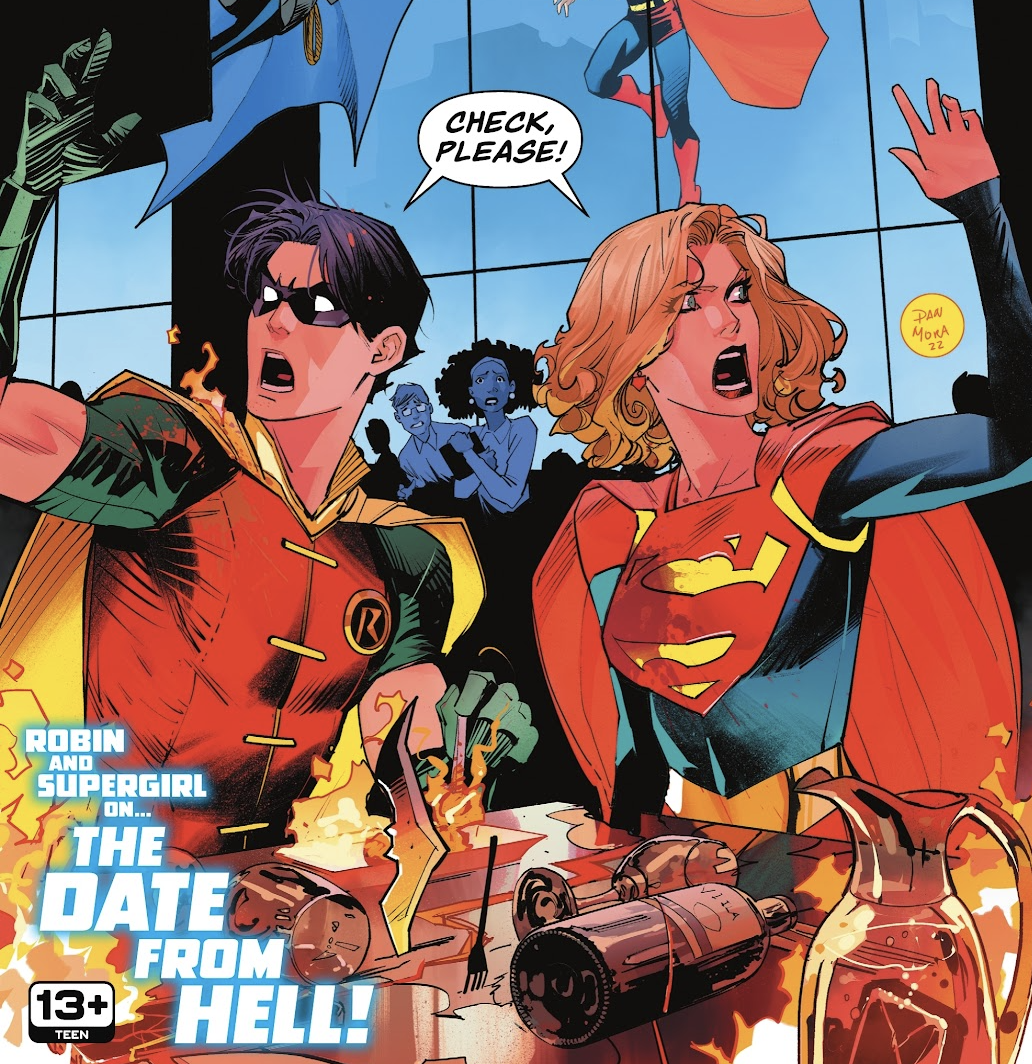 Kat: World's Finest has super stars Mark Waid and Dan Mora delivering one of the best superhero books on a monthly basis. The book has this timeless feel because its disconnected from any main storylines. It utilizes the classic forms of Superman, Batman, and even Dick Grayson and Supergirl to bring healthy nostalgia into the modern age. The book tells familiar storylines like "a boy from space crash landing on earth" and puts them on its head to deliver a morally gray narrative, while still managing to keep the tone as bright and cheery as Silver Age comics. 
---
IN THE LAND OF THE DRAGON

Phil: One of our absolutely favorite things about Last Ember Press is the wide variety of comics that Brant Fowler and Co. publish. And their Cyberpunk Fantasy series, IN THE LAND OF THE DRAGON, is one of their most fun.
In 2061, the kidnapping of a child with unknown powers sparks a war between two corporations in a world forged of magic and technology.
I reacquainted myself with their action-packed first issue (seriously, it's NON-STOP ACTION right from the first page) when this latest issue launched on Kickstarter and was again impressed by the Cyberpunk world that writer Luca Frigerio and artist Lorenzo Re were able to craft so adeptly.
We're taken swiftly through the streets of New Bangkok in a heart-racing chase scene that carries us all the way through the end of the issue. It's full of swords, guns, giant motorcycles, surprises, and betrayal!
Definitely check out their second issue if you're a Cyberpunk fan: https://www.kickstarter.com/projects/brantfowler/dragon2
---
In Closing
Thanks so much for reading this week's email!
Remember to head over to our account on Zestworld to Subscribe for free to enter our Giveaway. And help Hairology reach that funding goal as it enters its final 1.5 weeks!
---
Current Kickstarter: Hairology - A Celebration of Hair
Next Convention: C2E2
Next Kickstarters: HAUNTING #5 & Like Father, Like Daughter #8 (March 2023)
Phil's Socials: Twitter | Instagram
Kat's Socials: Twitter | YouTube
Read "Slice of Life" on Zestworld: https://www.zestworld.com/LifelineComics/slice-of-life-gl