Hi friends!
It's been a minute - I was off on a much-needed vacation last week. But there's also a ton of news to share! Like, A LOT.
First off, you may have noticed something different the last time you visited the Zestworld website. That's because the gang at ZW has entered what they're calling "Phase 2" - revamping the site and bringing in some new friends to the platform, including pals Keith Champagne and Liana Kangas. What does it mean for you? Well, it's good news - instead of having all of our content behind a paywall, you will get to read The Awakened for free after two-weeks. If you're a paid subscriber, you still get to see pages as they're delivered, and we'll continue to share exclusive stuff with you first. So, a win-win, I think!
We'll be sending out a chunk of exclusive Awakened pages out to paid subscribers later this week, and next week we'll have an exclusive essay from co-writer/co-creator, Michael Moreci! Here's a sneak peek at what you'll see:
***
That's not all, though - the last few weeks have been chock-full of STUFF. First up - I'm writing a Spider-Man novel! Well, an Araña novel! It's called Araña/Spider-Man 2099: Dark Tomorrow and I'm so excited to share this news with you all.
As some of you recall, I wrote an Araña short in last month's Edge of Spider-Verse #1, which set up a new status quo for Anya and returned her to the moniker she debuted with. But I'm also writing a YA novel starring Anya in her early days, and she's teaming up with non other than Miguel O'Hara, Spider-Man 2099! Here's the cover, by Carolina Rodríguez Fuenmayor. Isn't it beautiful?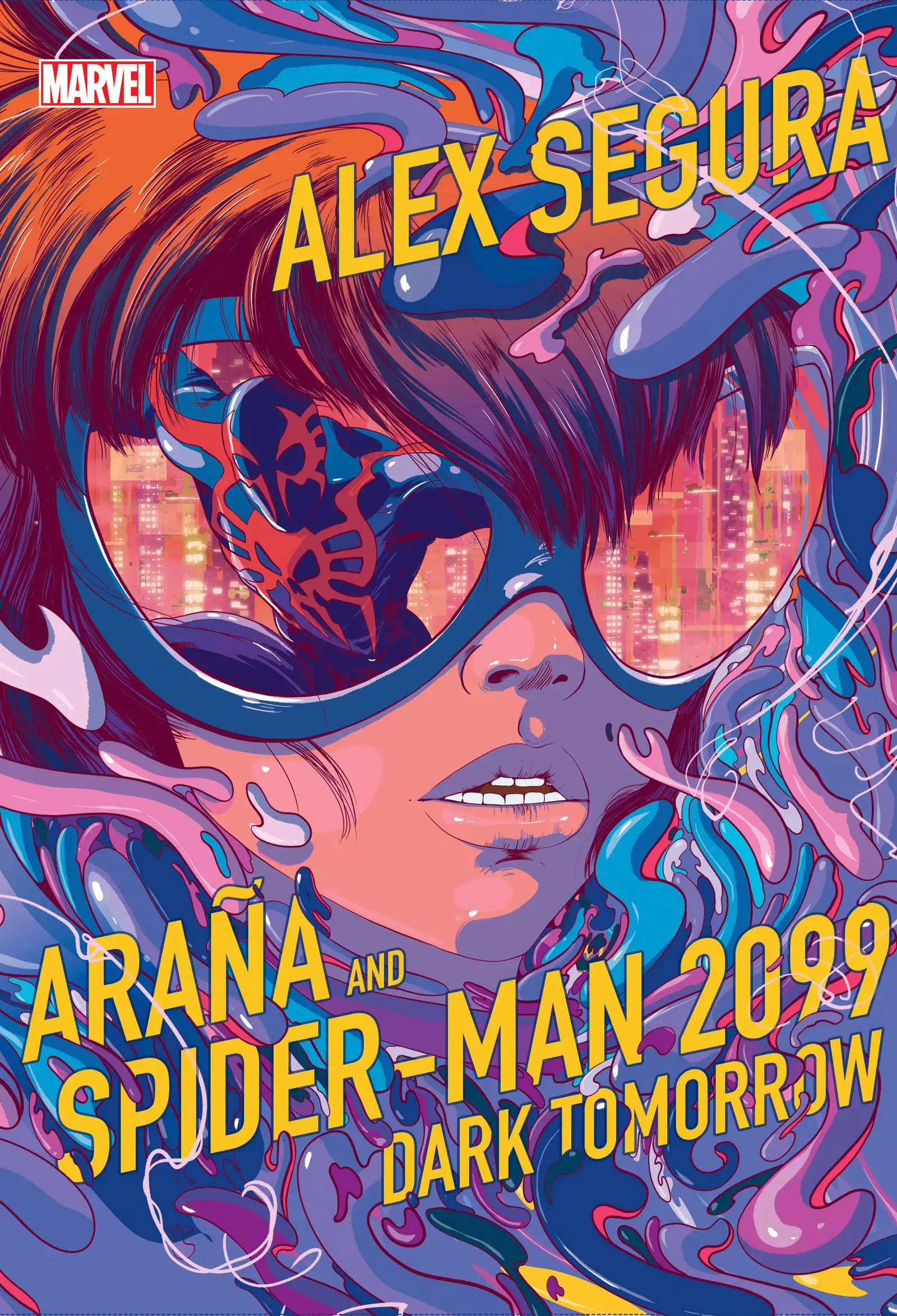 Few characters have had a greater impact on me than Anya and Miguel - as a young Cuban-American kid reading comics in Miami, it was so important and special to feel seen - especially when it came to being a superhero, and a Spider-hero! This time-hopping adventure from Marvel Press shows us both heroes at different points in their careers - Anya is struggling to get some guidance as a new hero, and Miguel is burnt out on the hero game. Can they both come together to literally save the universe? I sure hope so. You can preorder the book here.
Also, if you want to hear me ramble on about what I think makes a great Spider-Man story, listen to me barge in on Marvel's The Pull List podcast, with Jasmine and Ryan (one of my oldest, dearest friends), wherever you listen to "podcasts."
And, speaking of Marvel - they just released more details on my White Tiger story hitting later this month in Marvel's Voices: Comunidades - and the NEW character I'll be introducing with artist Roge Antonio. Meet Chimera!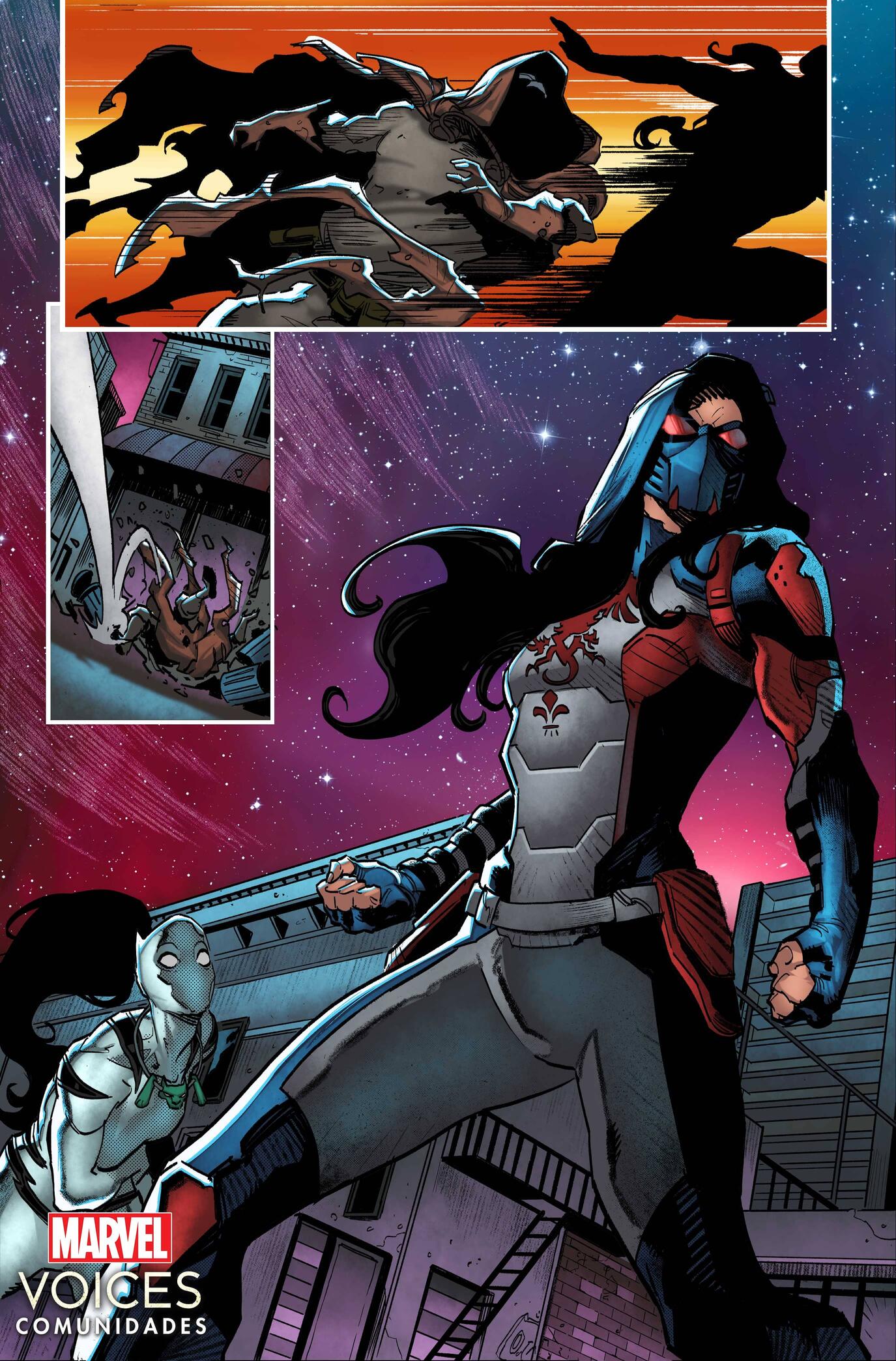 It's wild to think that not only will I be writing another great Latinx Marvel hero, but also bringing a new one into the universe, with an all-star artist like Roge. Huge thanks to editor Lauren Amaro for having us, and wow - what a lineup of creators also contributing to Comunidades! Please do check it out and let your retailer know you want a copy on Sept. 28.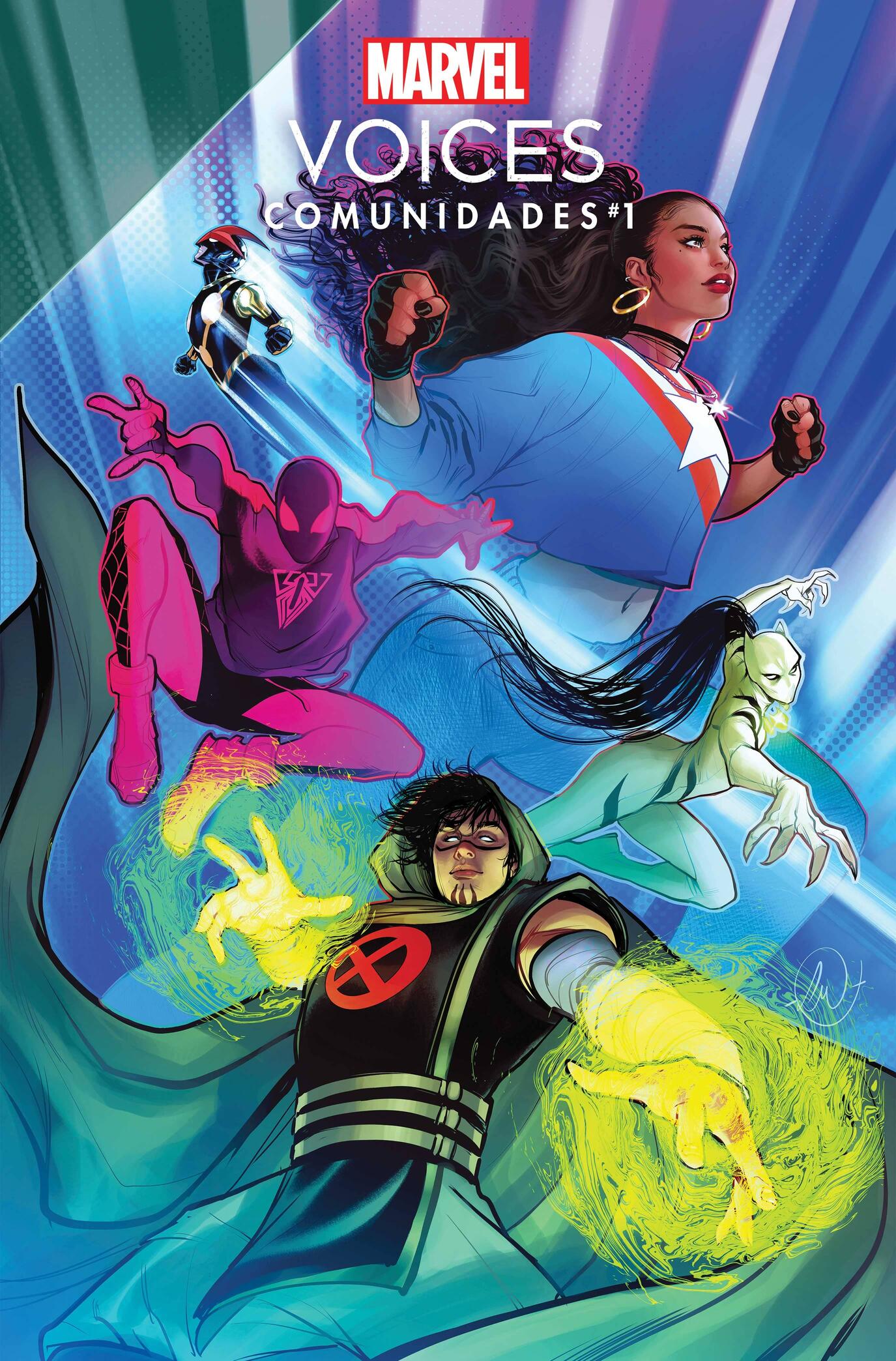 ***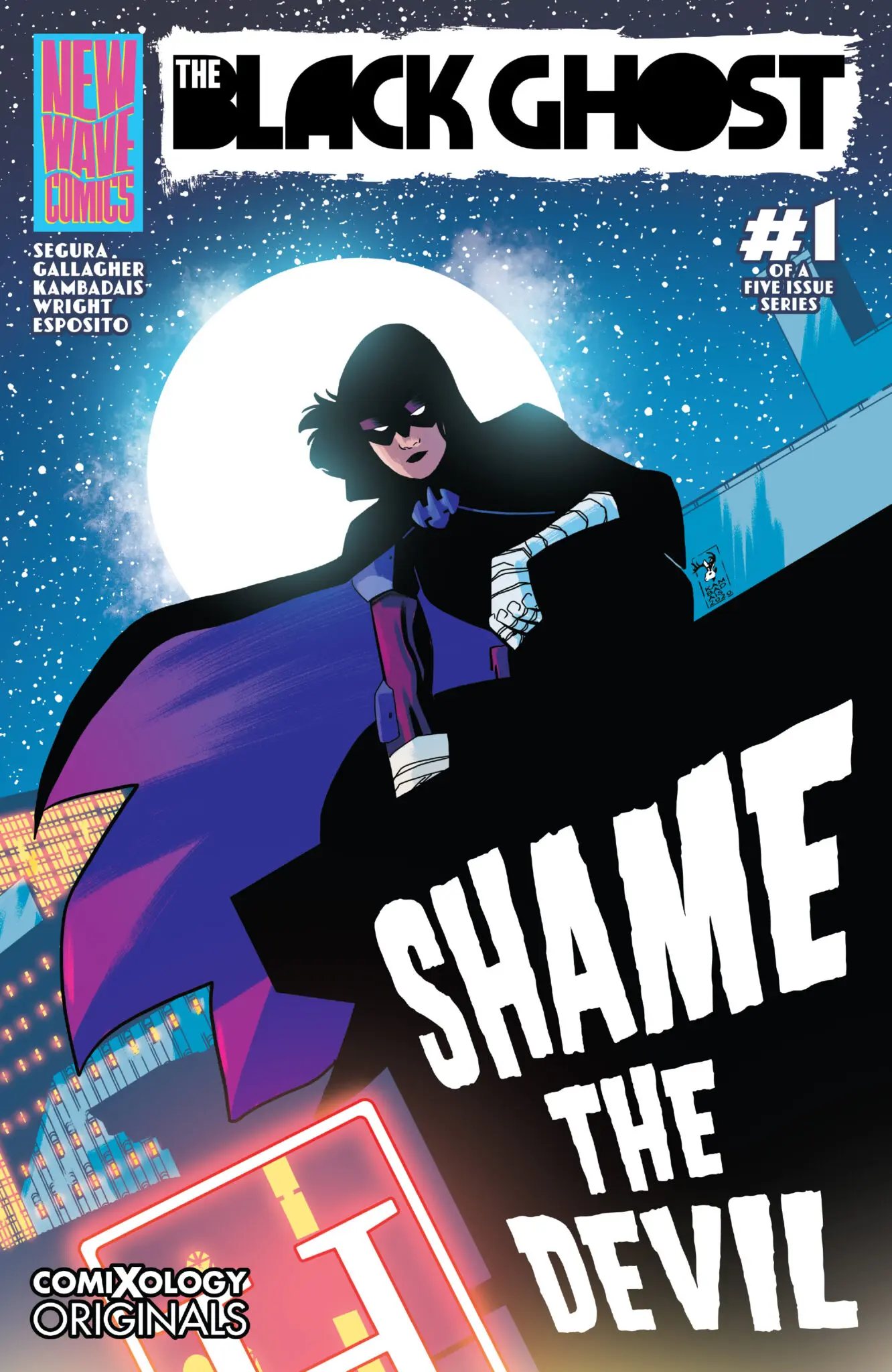 In other comics news - I had TWO new series launch at ComiXology Originals late last month - the first issue of  The Black Ghost Season 2 #1, by me, Monica Gallagher, George Kambadais, Ellie Wright, Taylor Esposito, and Greg Lockard; and Blood Oath #1, from me, Rob Hart, Joe Eisma, Hilary Jenkins, Jim Campbell, and Heather Antos. Black Ghost continues the adventures of Lara Dominguez, our reporter-turned-crimefighter who must continue to balance her life, demons, and career with that whole "superhero" thing. We've gotten some great praise from creators in advance of the release of the first issue - including friends and talents I admire SO MUCH, like Tini Howard, Jeremy Holt, Chuck Wendig, Ethan Sacks, Julio Anta, and Danielle Paige! Here's what they had to say: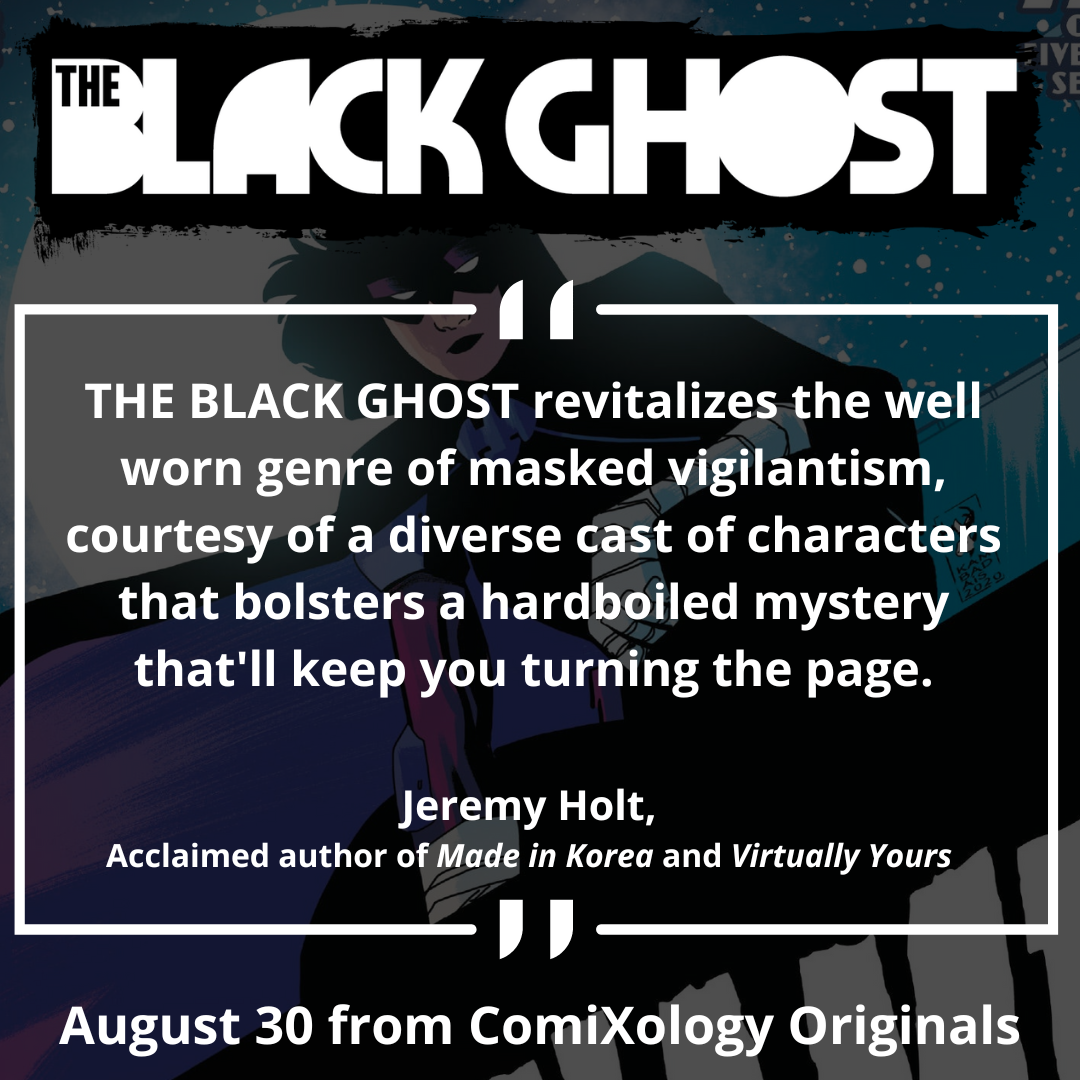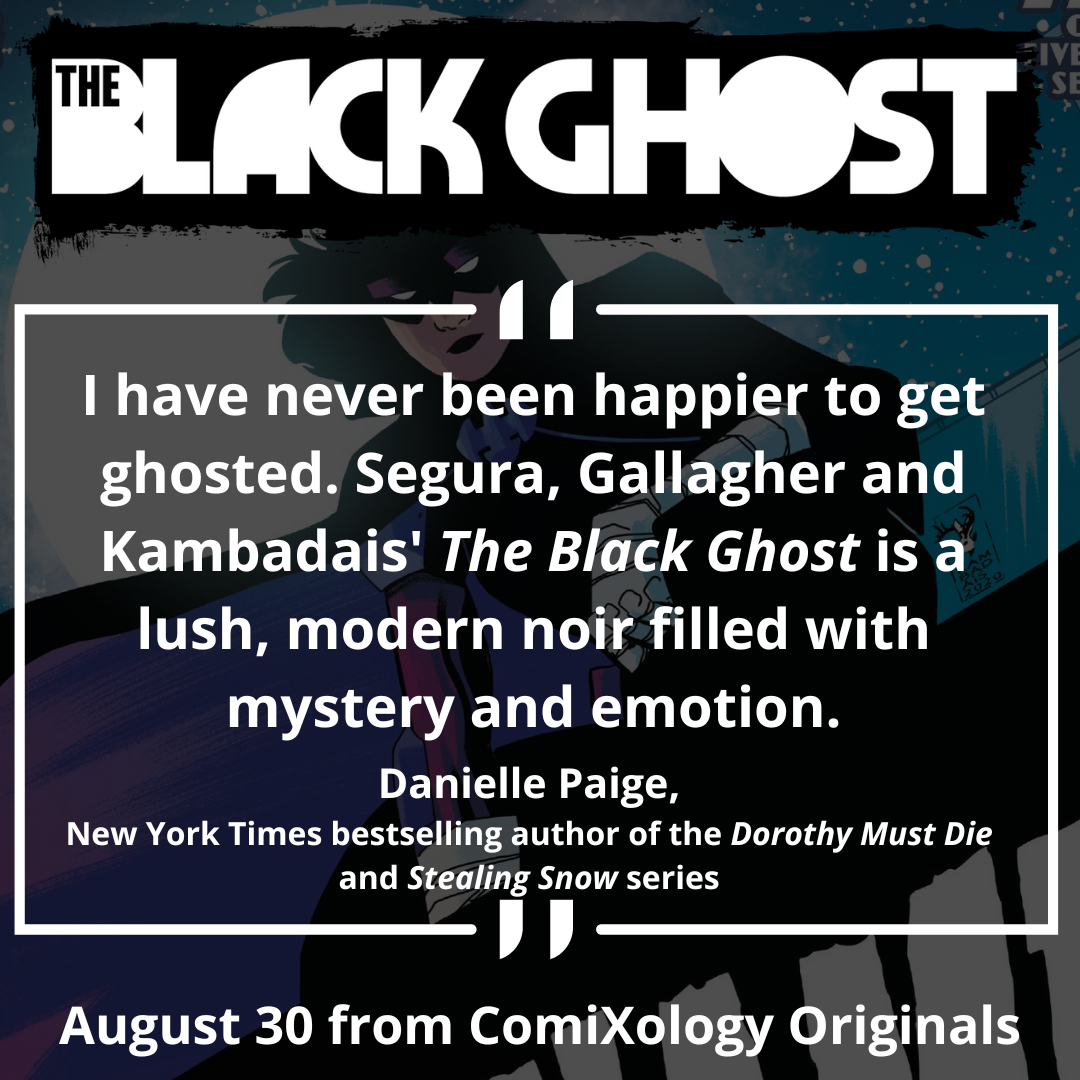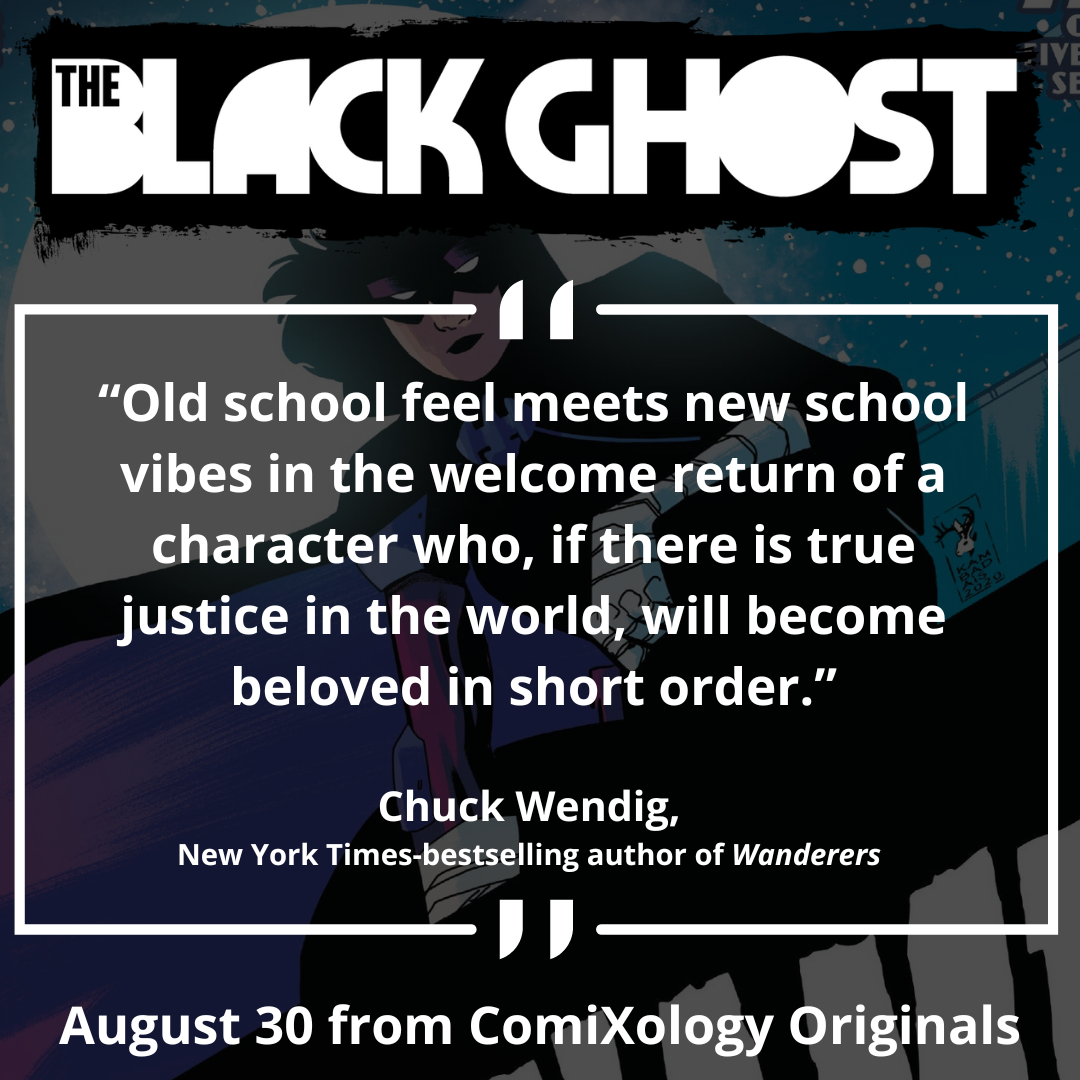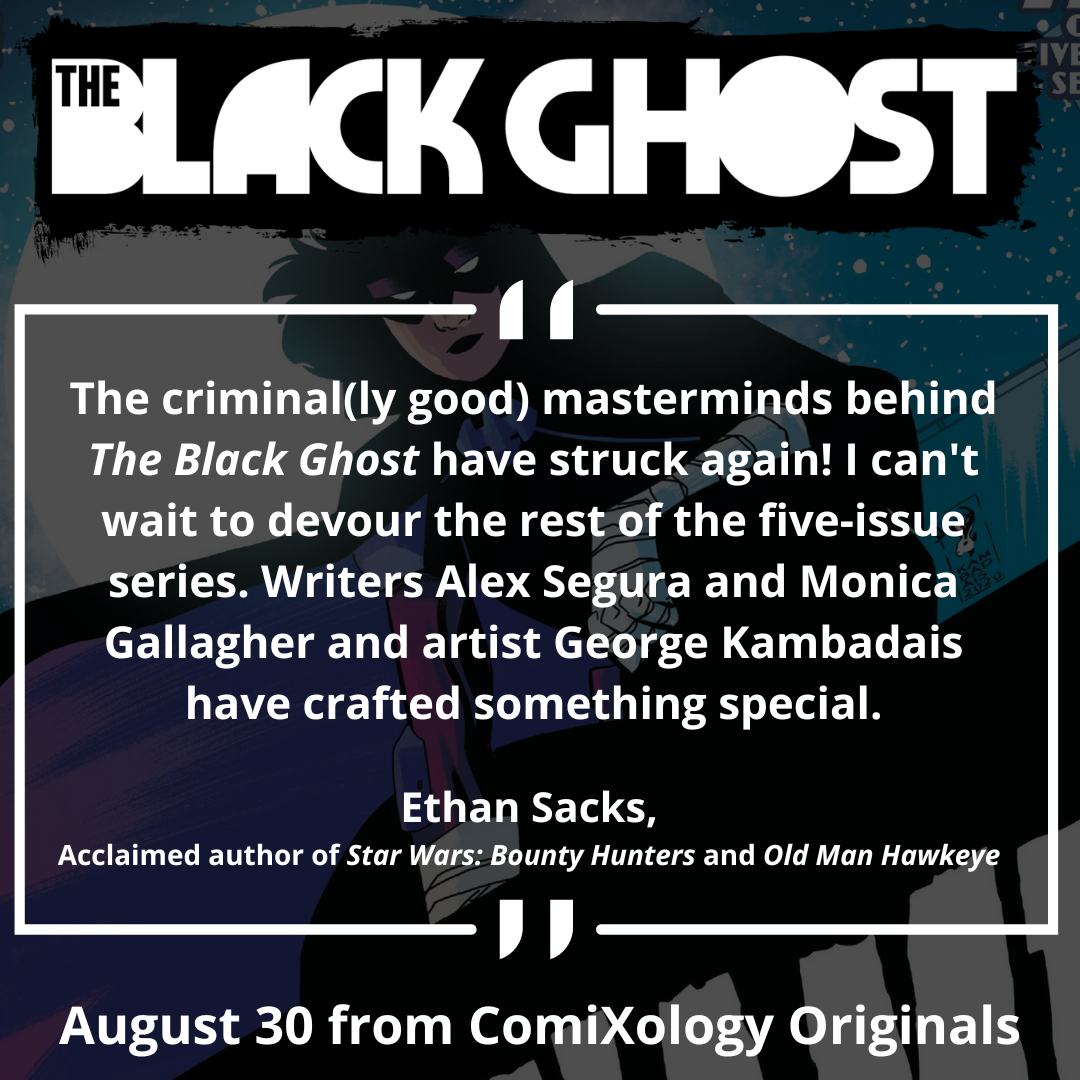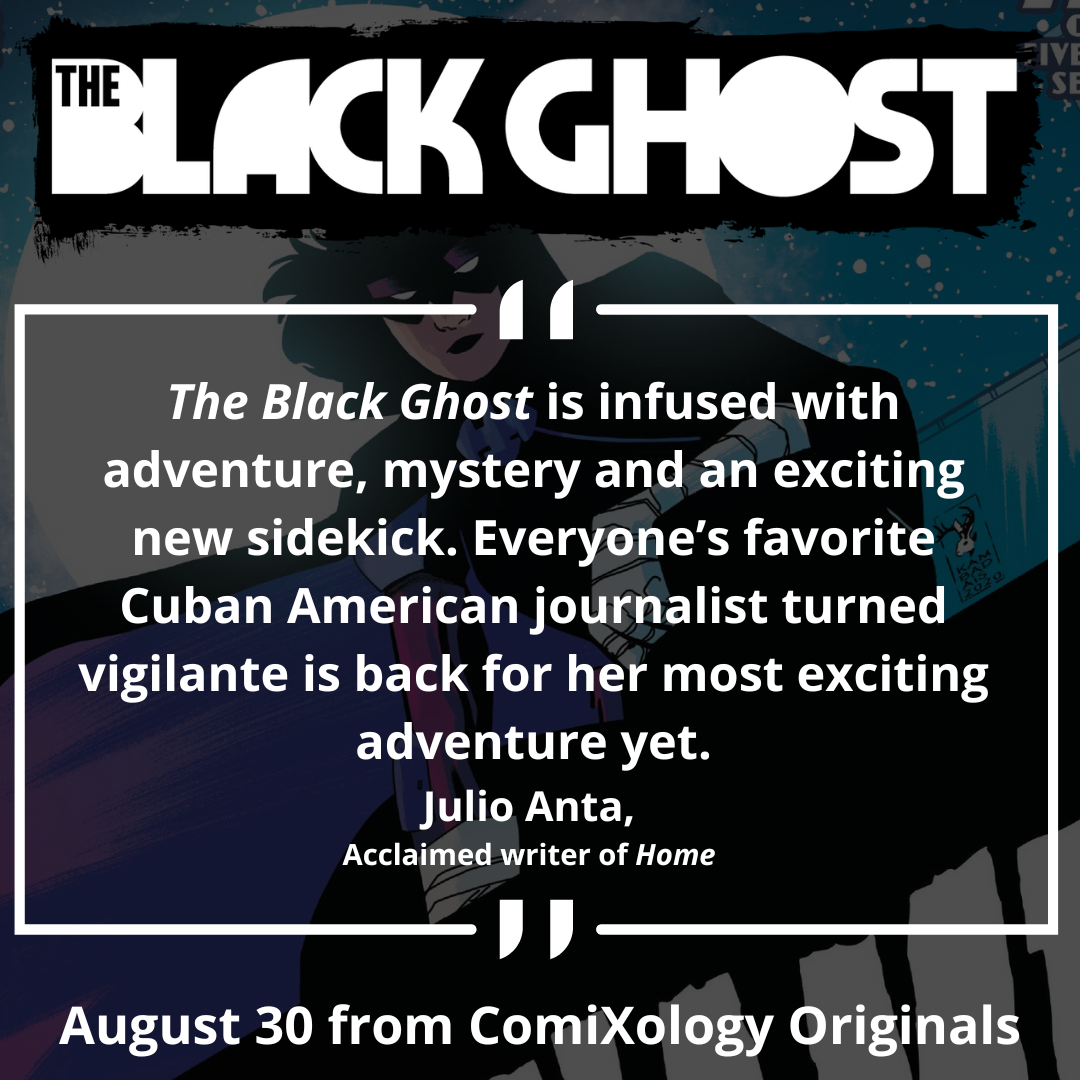 You can catch up on The Black Ghost Season 1 and the new issue right here! You can also get a preview of the first issue here!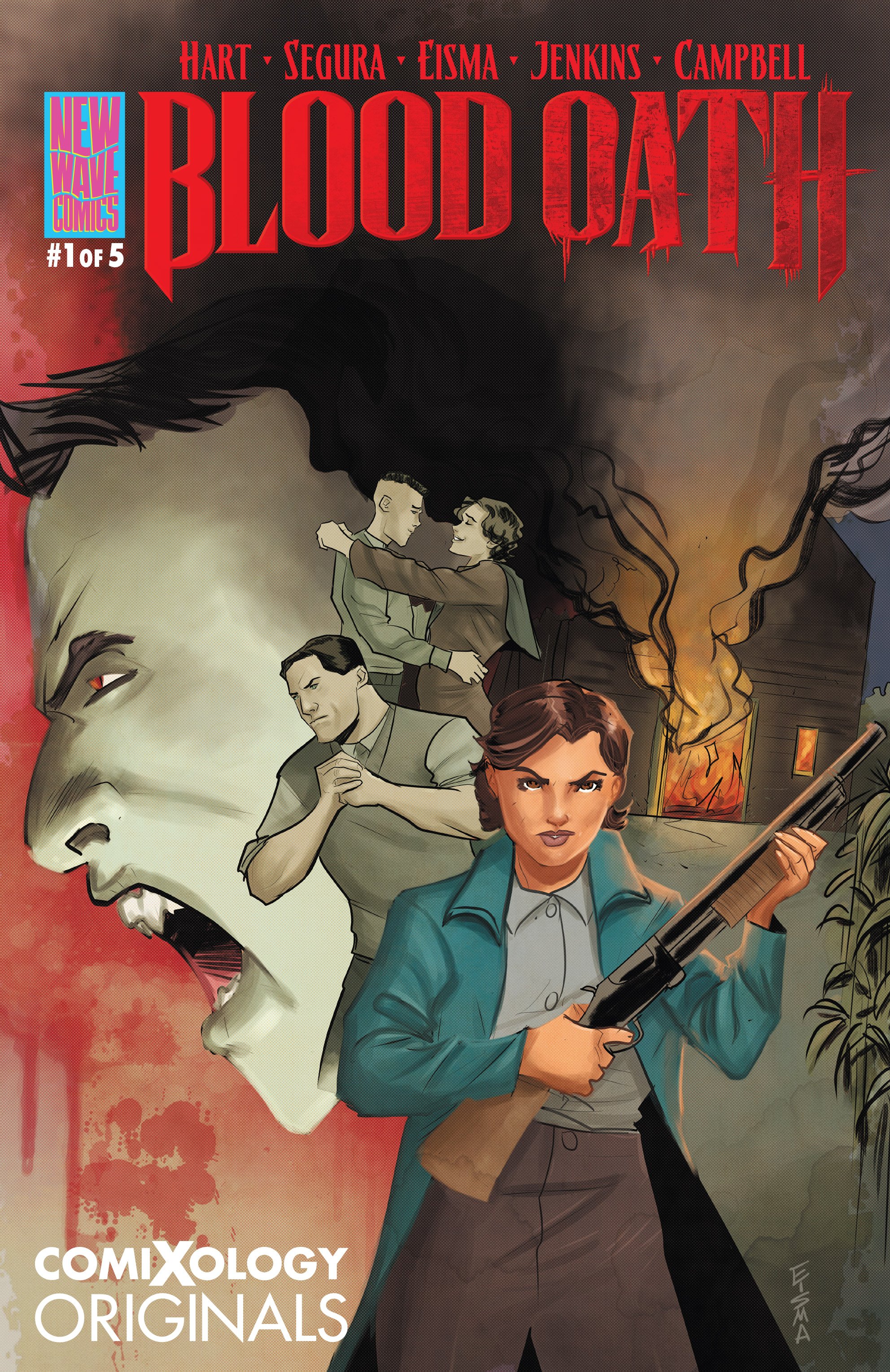 And hey! Blood Oath! Rob and I have been cooking this book up for YEARS, literally. The high concept? Think Boardwalk Empire meets vampires. Did that grab you? Cool, I hope so! It's a Prohibition-era tale about a bootlegger named Hazel Crenshaw - a woman fighting to protect her farm, her family, and her life. But when some unexpected toughs kidnap her sister, Hazel must take action - and uncover a deeper, darker criminal history that no one's supposed to know about. I hope you'll check out the first issue and let us know what you think! You can order it here. The gang at IGN has a preview and some quotes here!
Also! Both books will be printed and distributed to bookstores and comic shops by the fine folks at Dark Horse Comics next year!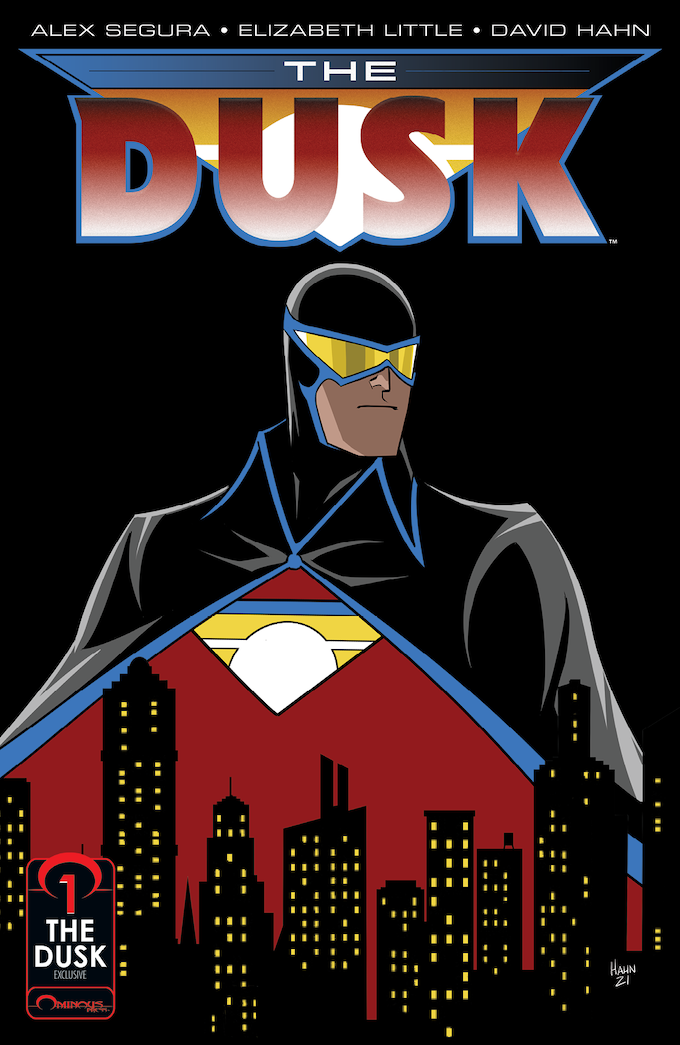 On The Dusk front, we're SO SO SO close to finishing the art on the book. David has less than 10 pages to go and then we'll wander off into the forest of uncertainty in terms of printing and fulfillment. But hey, the work will be done! As people talked about the 30th anniversary of Batman: The Animated Series, it got me thinking about The Dusk, which has many influences, but none as strong as B:TAS - a story about heroism for all ages that also doesn't flinch at the gray areas of the world. If you're a fan of the show, and the many comics done in that style, please consider checking out our book. If you didn't back the Kickstarter, you can order a limited amount from Ominous Press. I hope to have some more news on wider distribution for the book once we're all done, but nothing concrete to share now! In the meantime, check out a few more colored pages by David Hahn and Ellie Wright, plus some line art from the third chapter by David!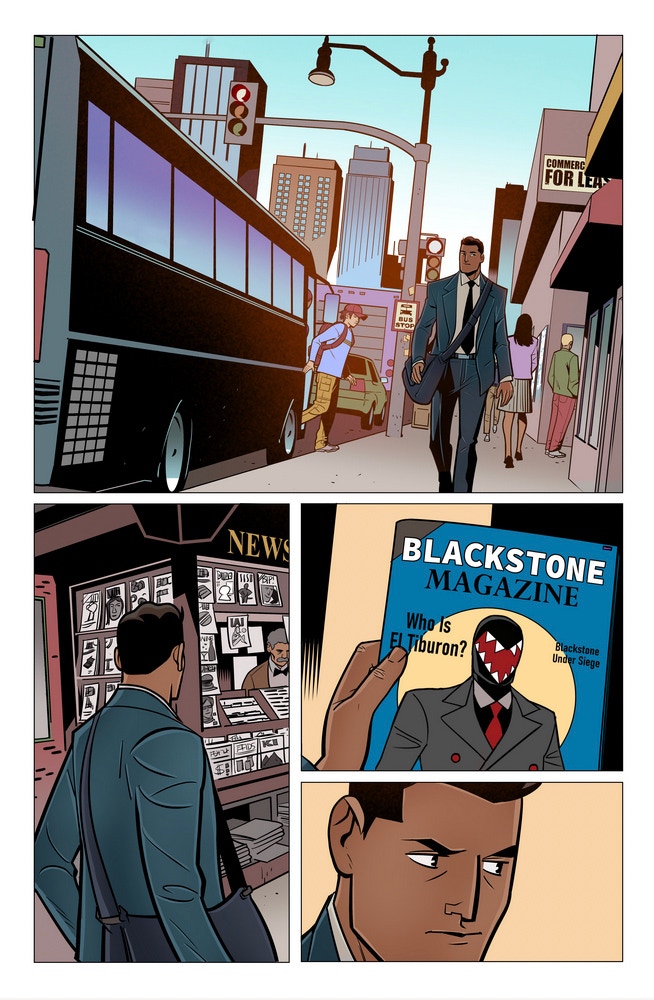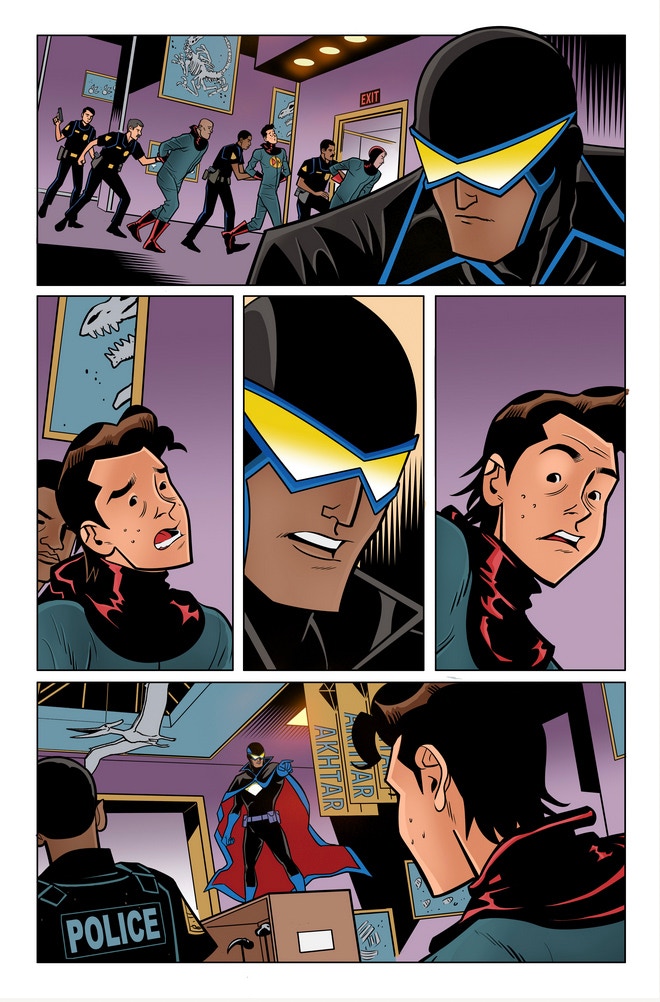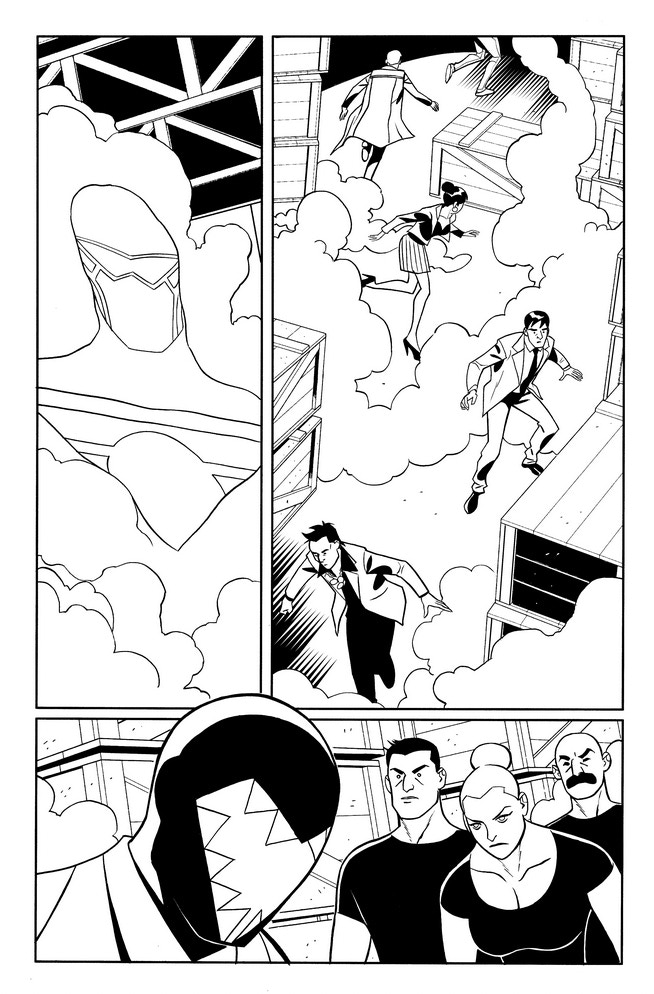 Is that it? Well, no! It wouldn't be a newsletter without some quick hits, huh?
I'll be at Bouchercon this week! Find me if you're around! Your best bet is to swing by the Underrepresented Voices event, or Noir at the Bar. Both on Friday!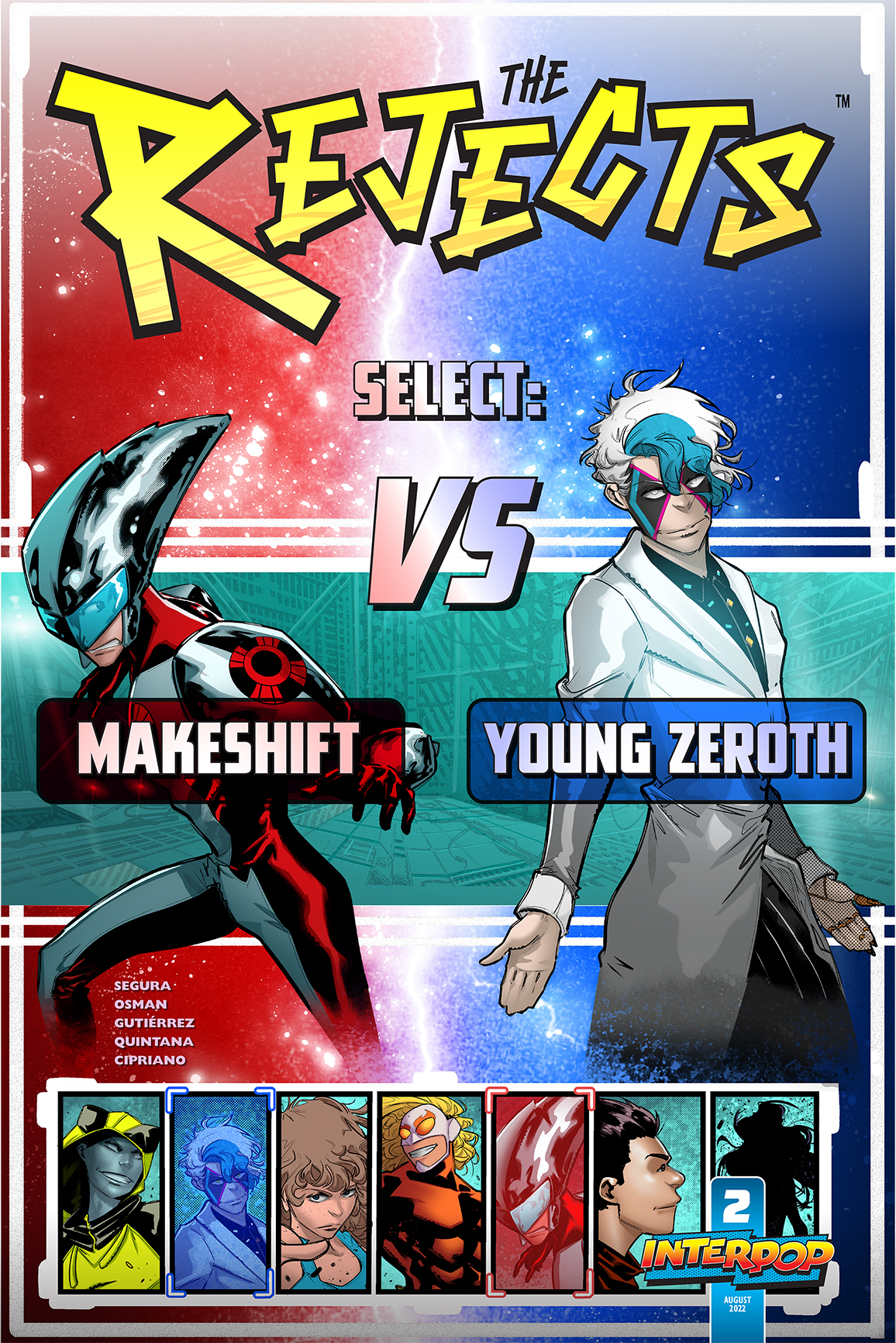 The Rejects #2 is out! Join me, Chantelle, Adrian, and the whole gang as we deepen the mystery behind our young team - and hint at who just might be pulling the strings!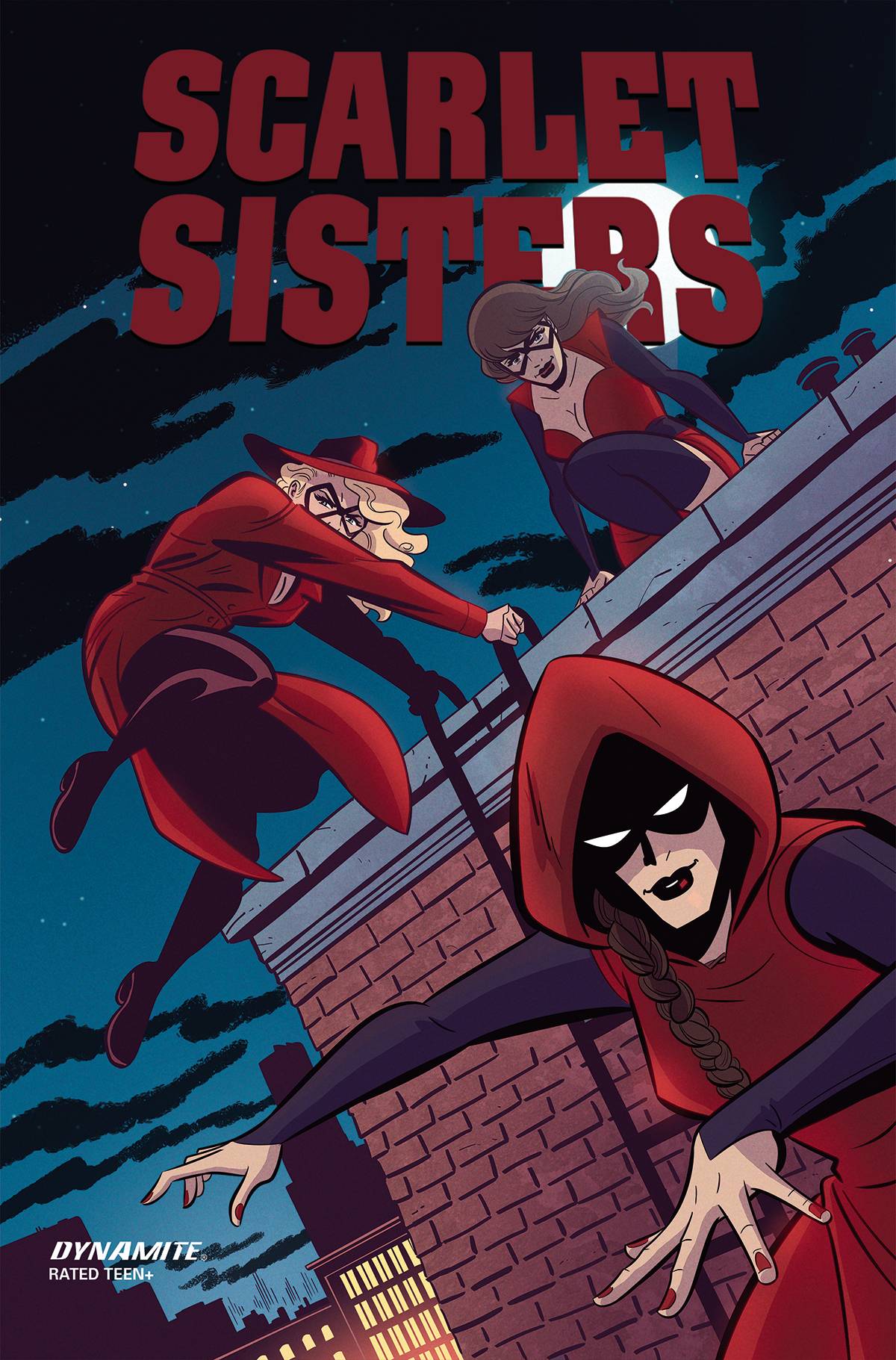 And hey, have you told your retailer you want a copy of The Scarlet Sisters one-shot I'm writing, with art by Emiliana Pinna? Well, do that! It hits early next month, edited by good pal, Nate Cosby.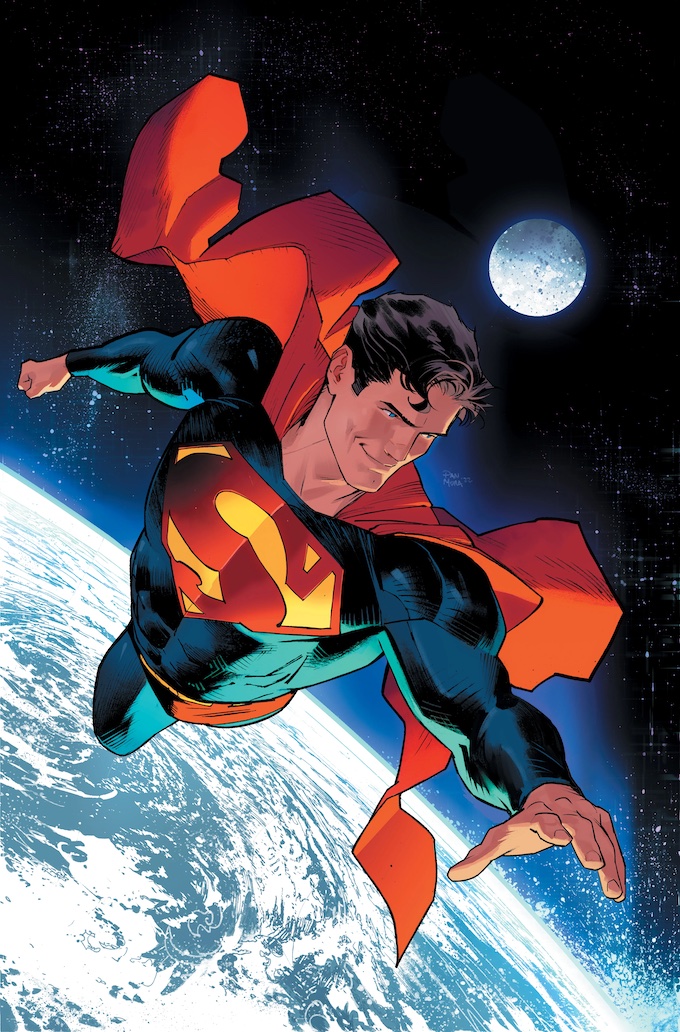 Also! Don't forget - I've got a Superman story in Superman: Kal-El Returns Special #1, from DC Comics! I can't wait to let you know who I'm working with and show some art, but for now, please preorder a copy at your local comic shop. Sharing space with heavyweights like Marv Wolfman, Sina Grace, and Mark Waid is giving me hives - but I'm really proud of the story we cooked up. Hope you enjoy it, too!
That'd a lot! But also the end of this newsletter! I hope you're hanging in there. See you next week with some exclusive art from The Awakened. Don't forget to sign up for the paid tier to be first in line.
Talk soon,
Alex